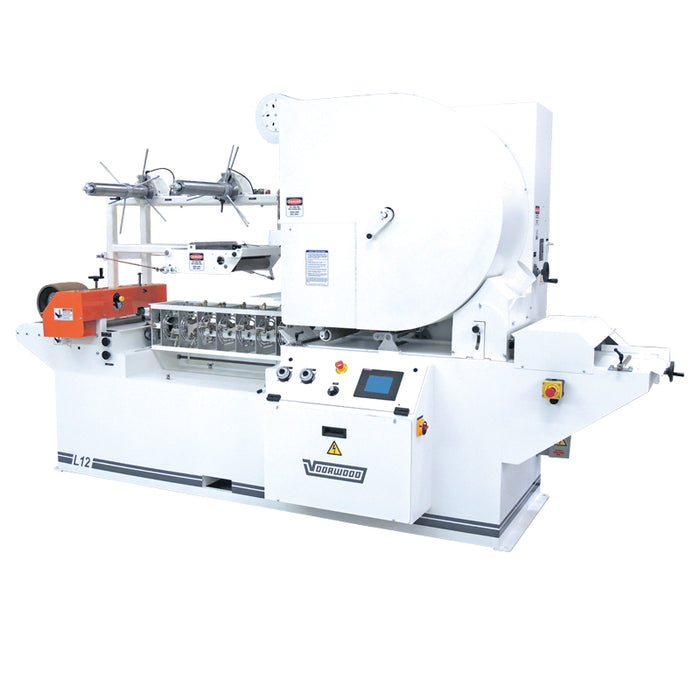 Voorwood | WL12 Profile Wrapper
Original price
$50,000.00
-
Original price
$50,000.00
The WL12 Profile Wrapper (L-12 Profile Laminator) is for paper, vinyl, and low-pressure laminates. This compact laminator produces high-quality mouldings up to 200' long per minute. The unique quick-change cartridges enable complete pattern changeovers in less than five minutes. The profile wrapper combines proven technology, unparalleled customer service, and more than 50 years of experience in wrapping machinery.
The WL12 Profile Wrapper is popular around the world for its ability to economically produce high volumes of beautifully finished laminated products. Manufacturers of picture frames, moulding, wall units, furniture, and many other products have benefited from its unique design. The profile laminator is compact, easy to maintain, and simple to operate. Using environmentally friendly PVA adhesives, the profile wrapper provides a high-quality finish and substantial savings over the price of other glues. The Voorwood WL12 Profile Wrapper permanently applies paper, vinyl, cloth, even leather to profiled wood, MDF, particleboard, and many other substrates.
One of the most amazing features of the profile wrapper is the patented profile cartridge which allows operators to completely change profile patterns in a matter of minutes. Each cartridge accommodates up to 14 separate wrapping stations that enable the machine to wrap hundreds of simple and complex profiles.
The WL12 Profile Wrapper is furnished with a top brush pre-cleaner, automatic film splicer, automatic precision film tracking system, an automatic adhesive dispensing system with air-operated glue pump, cartridge setup stand, and an infinitely variable AC drive to 200 fpm. The WL12 Profile Wrapper accepts both the standard Model C4 laminating cartridges and the extended Model C4-L cartridges that have two additional wrapping plates. It is equipped with automatic film cut off with electronic controls.
Accommodates a maximum part width of 12″
Substrate cleaner
Quick change cartridges
Automatic part cutoff
Web splicer
Cartridge stand (option)