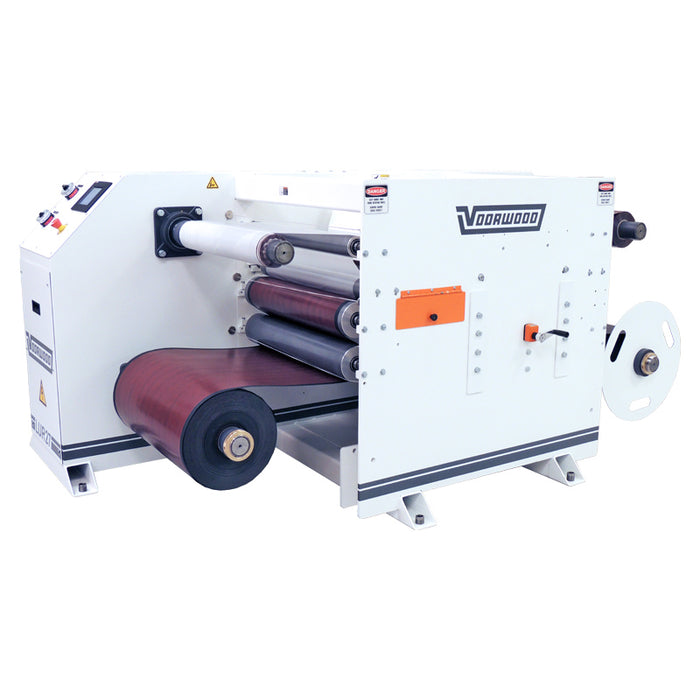 Voorwood | LUR27 Converter Laminator
Original price
$50,000.00
-
Original price
$50,000.00
The LUR27 Converter Laminator (Film to Film Laminator) applies transfer-finishing foils to the surface of PVC. Hot-stamp foils have the look of real woodgrain finishes, marbles, granites, solid colors, and geometric designs. The laminator has two heated foil applicator stations, which are incorporated in a heavy-duty machine frame for durability and precision. On the electronic control panel of the surface foiler are visual heat monitors for each station and other controls, such as for laminator pressure, start/stop, and film tension.
The LUR27 Converter Laminator consists of a foil unwind station with tension control and a substrate unwind station with auto-tension control. A foil rewind station has a torque motor to control rewind and the stripper roll for carrier film wind-up. The surface foiler has a substrate rewind station. Production rates will vary with the type of laminate and substrate. Typical production speeds range from 30-50 FPM. A spreader roller is used to stretch and flatten the foil web before application. The LUR27 Converter Laminator has heated nip rollers of 8.5" external diameter and automatic temperature control. The height is manually adjustable with digital readout indicators.
The LUR27 Converter Laminator is used typically to laminate products including automotive interiors, window treatment, ceiling tiles, flooring, and many others. A variety of unwind and rewind shafts, including cantilevered, shafted or shaftless units to handle all sizes and weights of rolls can be supplied with the machine. Voorwood engineering customizes the surface foiling machinery to meet your process requirements.
Accommodates a maximum material thickness of.010″–.060″
Accommodates a maximum unwind roll width of 27" (other widths available)
Foil unwind station with tension control
Substrate unwind station with auto-tension
Foil cantilevered rewind station with stripper roll
Single substrate cantilevered rewind station
Spreader roller
Nip rolls run cold or heated