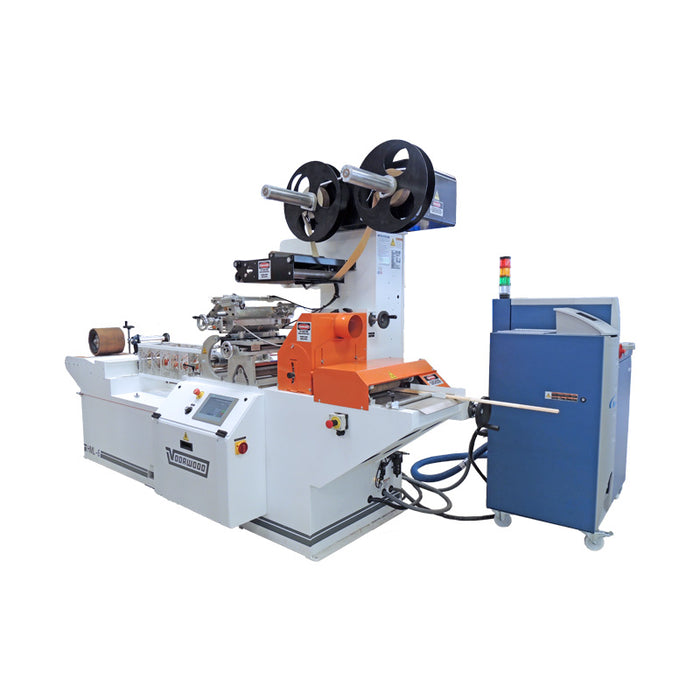 Voorwood | HML-6 Profile Laminator
Original price
$50,000.00
-
Original price
$50,000.00
The HML-6 Profile Laminator applies hot melt adhesives to the back of the various paper, foil, or vinyl webbing, and wraps the webbing around all types of profiled wood, extruded plastics, and metal substrates. The base hot melt wrapper is furnished with two unwind spool and film tensioners, a splicer assembly, a hot melt adhesive applicator, an edge guide assembly, a substrate cleaner, a top infeed press roller assembly, an adjustable-height bottom-drive roller assembly and one cartridge station with a guide and lock assembly. The system is controlled through a touch screen control panel. The profile wrapper uses Voorwood's quick-change seven-station cartridges to enable complete pattern changeovers in less than five minutes.
Film rolls are mounted on the unwind shafts that contain a fine adjustment to aid film tracking. Each film unwind roll is provided with a tension control located on the touch screen. This allows the tension in the film to be controlled to improve adhesive application and to prevent wrinkling of the film as it is applied to the substrate.
The HML-6 Profile Laminator's splicer assembly automatically joins the leading edge of the film on the second feed to the end of the film from the first fed roll. This provides a continuous web and an uninterrupted operation of the wrapping system. The system includes an adjustable width slot-coater adhesive applicator.
The HML-6 Profile Laminator has a substrate cleaner to ensure the substrate is clean before the film is applied to maximize adhesion and that the finish of the wrapped substrate is fine.
Accommodates a maximum part width of 6″
High production speeds with 360° wrapping
Quick-change cartridge system
Automatic glue-pot timed start-up
Automatic tracking system and tension control
Substrate cleaner
Web splicer