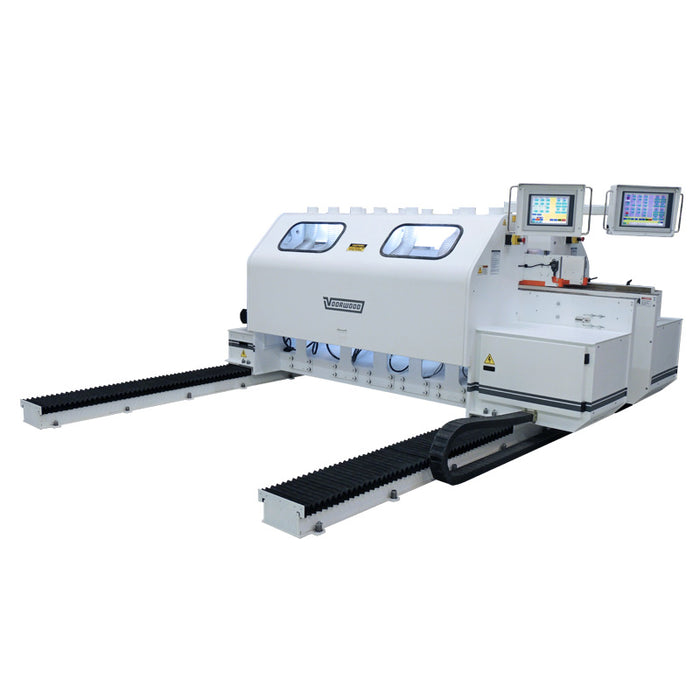 Voorwood | A217 Double-End Tenoner
Original price
$50,000.00
-
Original price
$50,000.00
The A217 Double-End Tenoner profiles and sands both edges of hardwood parts in one continuous pass. Depending on model configuration, each side of the machine is comprised of up to three shaping units that make the same cut to prevent end grain tear-out. The first shaper rotates with the feed direction, and as the substrate passes, the station jumps in to make a short but full depth cut on the substrate's trailing edge. The second and third units rotate against the direction of feed to finish the cut started by the first shaper. Jump shapers are equipped with a mechanical switch and PLC to time the jump, which automatically adjusts for part size and feed speed of the machine.
The A217 Double-End Tenoner has four counter-rotating sanding stations, on either side of the machine, are developed to go up and down, in and out, and tilt to match shaped profiles. The first and third spindles rotate with the direction of feed and the second and fourth spindles rotate against the direction of feed. Dual sanding stations give the flexibility to do more difficult profiles and change grits to achieve finer sanding. Both shaper and sander units can be set up with optional quick-change spindles, which allow for the changeover in less than a minute.
Stock is transported through the machine by bottom-feed chains with a friction surface and selectable pop-up lugs which automatically calculate based on the length of the part to maximize throughput. The facility for automatic downloads of contours from another CAD software can be provided at the customer's request. The A217 Double-End Tenoner is equipped with variable-speed transporter drive motors that are electronically synchronized.
Accommodates six or more shaping and sanding stations
Configured with automatic pop-up dogs that push parts of any length into the machine
Spindles can be configured with quick change, HSK, or stacked tooling