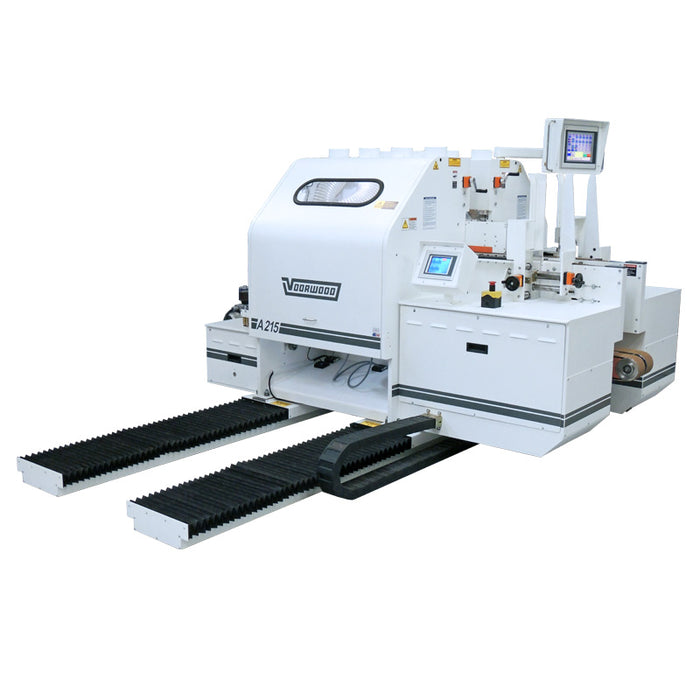 Voorwood | A215 Double-Side Cope Shaper
Original price
$50,000.00
-
Original price
$50,000.00
The A215 Double-Side Cope Shaper is equipped with mirrored shaping stations on either side. The first station has the option to be configured to jump in or out during the cut and includes automatic CNC control of the horizontal axis for the best possible repeatability. Servo positioning is accurate within.002". The second unit rotates against the direction of feed to finish the cut started by the first shaper. This Double-End Cope Tenoner has variable-speed transporter drive motors that are electronically synchronized.
The A215 Double-Side Cope Shaper profiles BOTH edges of MDF and hardwood parts in ONE continuous pass. With the movable side adjustable for width, the transporter assemblies incorporate an infeed support area that has a gravity-fed hopper system. Bottom-feed chains with pop-up lugs on 4" centers to grab and pull the substrate from the bottom of the hopper into the frame cabinet and past the shaping stations. Two optional automatic space ball insertion assemblies can be attached to the hopper feed system to automatically insert balls into the board. The A215 Double-Side Cope Shaper has inserting nozzles that are positioned directly above the feed chain to insert space balls into the rail groove approximately 5/8" away from the cope cut.
After the substrate passes through the machine, it automatically drops onto two urethane belts driven by an AC motor that is synchronized with the transport chain, returning the finished parts to the operator. The belts are driven by a common shaft and are running in the opposite direction of the transport system.
Compact Design
Fast Changeover (no backer blocks required)
Hopper feeder
Fastest throughput in the industry, one part per second
Labor savings with automatically inserts space balls (option)
Consistently accurate servo jump station addresses blowout
Capable of producing a minimum part length of 4"
Return belt system (option)