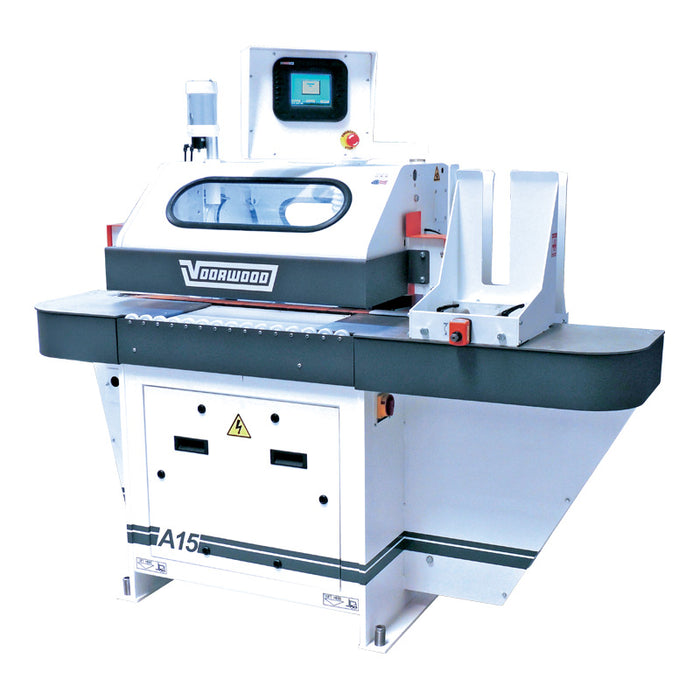 Voorwood | A15 Stile & Rail Shaper
Original price
$50,000.00
-
Original price
$50,000.00
The A15 Stile and Rail Shaper straight cuts inside edges on the stiles, rails, and the outside edges (long-grain). This is the only machine on the market with the capability of shaping small parts. Spindles can be configured with quick change, HSK, or stacked tooling.
This system eliminates manual processes and saves labor and comes with an automatic space ball inserter option. The ball inserter will automatically insert space balls within 1" of specified distances from the leading and lagging edges of the board, adjusting automatically to different lengths of boards. For boards longer than 2', the device will insert additional balls at a specified distance apart from each other. For shortboards, the inserter will automatically insert two balls, one on either side of the center of the board.
The A15 Stile and Rail Shaper is available with hopper feed that clamps the stack of boards while the bottom board is driven into the machine. Once the board has left the hopper, the clamps release letting the next board(s) drop straight down. This permits boards of different lengths to be stacked in the hopper. The A15 Stile and Rail Shaper can be configured to accommodates a sanding station.
The A15 Stile and Rail Shaper transport system incorporates a bottom transport chain assembly and a belt hold-down assembly. The transport chain assembly is composed of a urethane top and a double V-lug that travels over a precision-machined double V-track, which ensures precise linear transition of the part through the machine. The belt hold-down consists of a non-marking urethane belt backed by a roller chain that provides hold-down pressure at every 0.5".
Smallest parts in the industry (1.44″x3.5″)
Straight cuts inside edges on stiles or rails
Automatic hopper feed
Labor-saving–adjustable space ball inserter (option)
Spindles can be configured with quick change, HSK, or stacked tooling
Double V-track (holds tolerances over time)