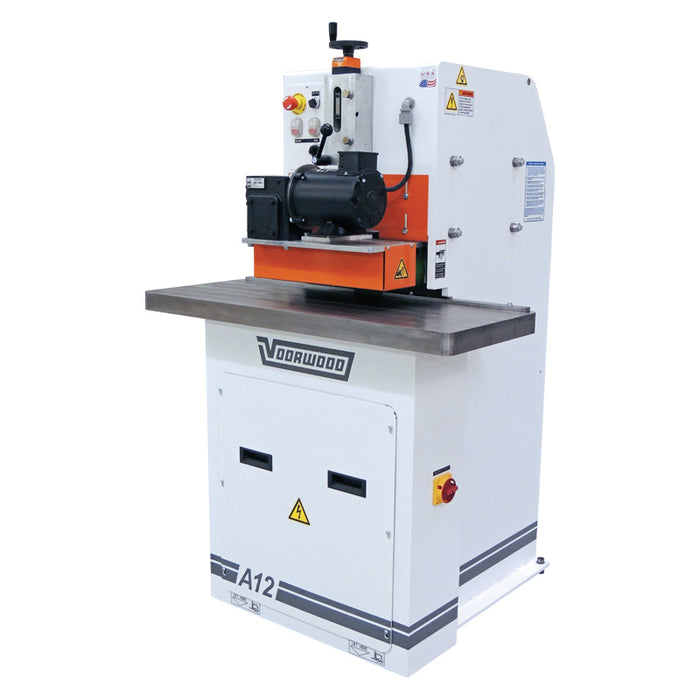 Voorwood | A12 Miter Lock Shaper
Original price
$50,000.00
-
Original price
$50,000.00
The A12 Miter Lock Shaper shapes the edge of solid wood and plywood parts in one pass to produce a precision lock miter joint. Eliminates the doweling process.
The A12 Miter Lock Shaper machine's shaping station is equipped with a precision-balanced drive motor/spindle combination. The spindle is equipped with vertical, horizontal, and tilt adjustments with micro point digital readouts. With these adjustments, the tool can be rotated from 0° to 120° allowing the operator to mill on both sides of the milling tool. With this configuration, the machine requires only one tool to mill both sides of the lock miter joint. Also, it is this configuration that allows the operator to create lock miter joints of 90° up to 150°.
The A12 Miter Lock Shaper machine's transport assembly incorporates a fixed edge guide, power feed drive assembly, and a bottom cast iron work-table. The feed drive assembly is reversible, and the substrate can be fed from either direction depending on the position of the milling tool. The substrate is positioned against the edge guide and pushed under the power feed drive assembly which carries the substrate through the machine and past the shaping station, sliding it across the cast iron work-table. The power feed drive assembly has variable-speed to ensure proper milling of the substrate.
The A12 Miter Lock Shaper cabinet is sealed and is equipped with angled plates to that cause the dust to collect at the bottom of the cabinet where an 8" dust port carries dust out of the machine. All air being drawn into the machine cabinet is from the front of the machine where the substrate passes in front of the milling station. This ensures minimal dust build-up on the work-table next to the operator.
Accommodates a minimum face frame width of 1.50″
Accommodates a minimum part size of 1.50″ x 12″
Accommodates a maximum part size of 60″ x 60″ (without outboard support)
Shapes precision miters at any angle between 90° to 150°
The machine only requires one cutter to mill both sides of the lock miter joint
Single workstation (labor-saving)
No doweling needed