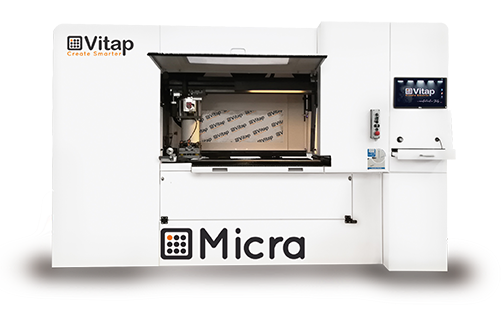 Vitap | Micra
Original price
$50,000.00
-
Original price
$50,000.00
CNC PUNCHING MACHINE FOR THE PRODUCTION OF MICRO-PERFORATED ACOUSTIC PANELS
Discover the revolutionary patented Vitap method for microperforation
Micra is a CNC punching machine ideal for the production of micro-perforated acoustic panels.
The only one of its kind, Micra is a compact machine that occupies less than 5 square meters, an incredibly smaller size than the other micro-perforators on the market.
Microperforation: the revolutionary Vitap method
With Micra Vitap has patented a revolutionary system for the production of micro-perforated sound-absorbing panels. Until now, microperforation was carried out mainly through two methods:
Traditional Method: a long process that to achieve the final result involves several manipulations and the intervention of at least three machines to drill the panel, apply glue on it and join the panel with a micro-perforated sheet (to be purchased specifically).
Laser Method: uan effective method but with a significant problem: laser processing produces fumes that are harmful to health and therefore requires the preparation of a suitable environment (with considerable investments of money and the availability of necessary space) to carry out the work safely.
Vitap's patented method, on the other hand, involves two single and simple steps to be carried out in a small space and in complete safety:
1) Micra performs the micro-perforations on the upper face of the panel "the one that will be exposed": the micro-holes are invisible and allow to preserve the aesthetic value of the panel
2) The bottom face of the panel is drilled or grooved by another CNC machine such as our Point Acoustic, Point Grooving or Point K2 2.0.
Do you want to know all the details about the Vitap method?
More details about Micra
Micra is able to drill holes with a diameter starting from 0.5 mm. This machine is equipped with a steel punching head with micro holes, from 300 up to 2300, according to the type of need. The punching head can in fact be designed according to your specific needs.
Intuitive in use, it is extremely user-friendly and allows you to achieve high performance in a simple way.
Micra has no limit to the length of the panel on the X axis, and works on panels up to 50 mm thick and Y axis width up to 1300 mm.
HIGHLIGHTS
Vitap patented method
Compact: takes up less than 5 sqm
Apply invisible holes