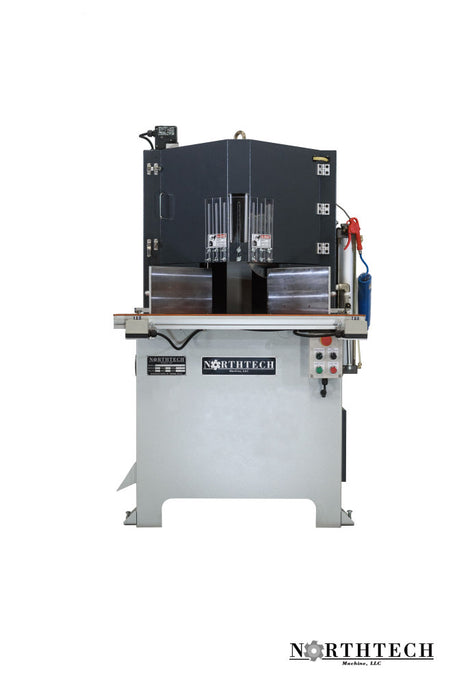 NORTHTECH MACHINE | NT-PN14 PANEL NOTCHER
Original price
$50,000.00
-
Original price
$50,000.00
The NT-PN14 is a double blade saw designed to cut an adjustable 90 degree notch. The (2) 5HP 14″ blades power through up to 8″ of material with over 5″ x 5″ capacity. While most commonly used for toe kicks, the NT-PN14 can be used on a variety of materials requiring square cut outs. Northtech offers a variety of saws for any application.
MAIN MOTOR HP: 2) 5 HP. Motors
VOLTAGE, FREQUENCY: 230/460 Volt 60Hz
PHASE: 3 Phase
AMP REQUIREMENT: 14 / 28 Amps
APPROVED ELECTRICAL PARTS: CE Approved Components
DUAL VOLTAGE MOTORS: 230/460 Volt
CONTROL VOLTAGE: 24 Volt Control Voltage
MIN. WORKING WIDTH: 1-1/8'' x 1-1/8''
MAX. WORKING WIDTH: 5-1/2'' x 5-1/2''
MAX. WORKING THICKNESS: 7''
ARBOR RPM: 3100 Rpm
BLADE SIZE: 14'' Tungsten Carbide Tipped
NO. OF TEETH ON BLADE: 120 Tooth
TOOTH SPACING: 3/8''
BLADE KERF: .118 In.