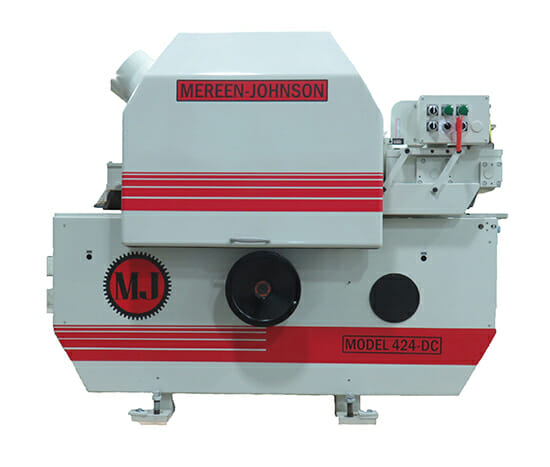 Mereen-Johnson | The Model 400 Series Saw
Original price
$50,000.00
-
Original price
$50,000.00
400 Series Fixed Arbor Dip Chain Multiple Rip Saws
Our 400 Series Saw is built to work a 24-hour shift. These saws are constructed for severe service & high production demands. This machine sets the industry standard for performance and yield. This series are available in 24", 31" and 40" width capacities to fit any operation.
Like the 312 Series, our 400 Series Saws can process a multitude of materials, making both series' a truly green, sustainable, & profitable choice. 
Features
Heavy-duty cast iron & steel frame construction
Direct drive, high-efficiency arbor motor
"Posi-Feed" bed with replaceable steel-backed rubber inserts
Available in 12″, 24″, 31, 40″, 52″, 60″ and 96″ width capacities for solid material & panel ripping applications. Custom width panel saws also available.
Power arbor hoist & powered vertical pressure head adjust
Benefits
Guaranteed glue joint precision allows edge gluing directly after ripping
Reduced Moulder allowance reduces waste & increases your yield
Bulletproof dependability with minimal maintenance keeps operating costs down
Higher production as no gap between boards is required
High resale value & lowest cost of ownership
Specifications

Models: 412-DC, 424-DC, 431-DC, 440-DC standard length capacity series.
424-DCS, 431-DCS (Short StockSeries)

Application: Multiple straight line and glue joint ripping.

Capacity: Arbor widths of 12 inches,24 inches, 31 inches and 40 inches. Thickness of 1/4 inch to 3-1/2 inch. Right hand throat clearance 5 inches beyond capacity.


Standard DC Series minimum length: 22 inches for bust up; 30 inches for glue joint rips; Short Stock DCS Series minimum length: 14 inches for bust up; 22 inches for glue joint accuracy.

Production: Feed rates infinitely variable 30 to 235 FPM. Variety of optional HP and feed rates available to 300 Shipping FPM.

Weight and Dimensions: Approx. 9,500 lbs.; 7'L x 7'W x 6'H (depending on model)

Arbor: Powered vertical raise and lower and disc type arbor brake standard. 2-3/16 inch diameter arbor complete with slip-off outboard end bearing. HP range to 150. Saw sleeves for 3-1/8 inch bore tooling. Aluminum saw spacers precision machined and dynamic balanced.

Feed: Exclusive Posi-Feed friction bed with extruded aluminum feed slats and replaceable steel backed rubber insert strips carried on precision DOUBLE-VEE heat treated chains and track. Feed bed dips at saw line to allow infinite saw spacing. Oil mist lubrication of chain and track with low level/pressure shut-off switch in oil reservoir.

Guide: Slide type quick-adjusting guide optional.
Complete infeed systems with adjustable guides optional.

Hold Downs/ Bed Plate: Powered vertical adjust of press rolls and bed plate for thickness adjust. Four air loaded overhead press rolls on DC Series, five air-loaded on DCS Series. Full width easily replaceable bed plate.

Sound Enclosure: Machine mounted sound enclosure standard.

Features: Standard equipment includes upper dust hoods, lower dust chute with exhaust hood, infeed double upper and single lower anti-kickback fingers, outfeed upper anti-kickback fingers, safety lock-out on arbor access door, one complete set of assorted saw spacers and set-up tools.

Optional: Additional removable saw sleeves; saw blades and spacers to order; saw sleeve set-up cart, and saw sleeve swing arm.