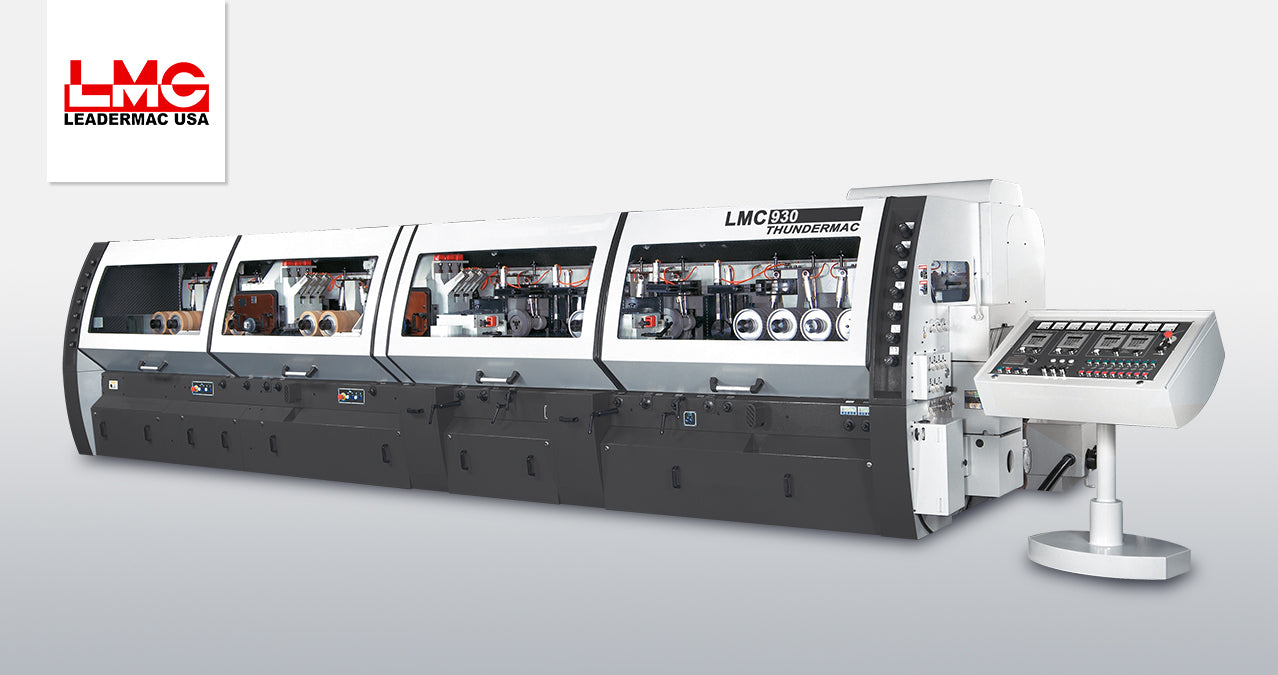 Leadermac | Thundermac Moulder Series
Original price
$50,000.00
-
Original price
$50,000.00
A heavy duty, jointed, high speed moulder designed for the production of flooring, finished mouldings, and basic four-sided planing of lumber.
The Leadermac Thundermac Moulder Series is a heavy duty moulder designed to run at high speeds and with the ability to handle a wide range of applications to meet your requirements. The Thundermac moulder is available with profile and straight jointers and has feed speeds from 200 to 650 fpm, producing an excellent quality finish. The feed system is designed to handle rough or pre-sized material and is built to run in demanding multiple shift operations, ensuring maximum uptime.
Why Leadermac Thundermac Moulder Series?
Heavily built cast iron or fabricated steel frame ensures the production of quality finished products at high speed rates.
Precision spindle assemblies including four high-precision bearings, each for the highest tolerances and superior finish results.
A wide range of automation options available on the standard Setworks control to provide the operator with fast and repeatable set ups with reduced changeover time
Key Advantages
Industrial moulder design with a solid cast iron or fabricated steel frame produces unparalleled finished part quality in its class.
The Thundermac moulder comes with high-quality components, ensuring the best finish possible.
4 pieces of Abec 7 Precision Bearings per spindle – ensuring an excellent finish on your products.
The Thundermac moulders design ensures easy and consistent set up by your operator, ensuring quick changeovers.
Turnkey solutions include on-site operator and maintenance training.
Specifications

| | |
| --- | --- |
| Working widths | 0.6″ to 9″, 12", 13", and 15.75" optional |
| Working thickness | 0.25″ to 6″, 8" optional |
| Number of spindles | 1 to 11 |
| Spindle RPM | 6000, 7200 or 8000 RPM |
| Standard feed speed | 20 to 200, 260, 300 or 660 FPM |
| Minimum part length | 8″ (butt to butt) |
| Axial adjustment of vertical spindles | 3.2″ (standard) |
| Axial adjustment of horizontal spindles | 1.6″ (standard) |
| Infeed bed length | 32" (.8m), 55" (1.4m), 78″ (2m) 98″ (2.5), 120″ (3m) |