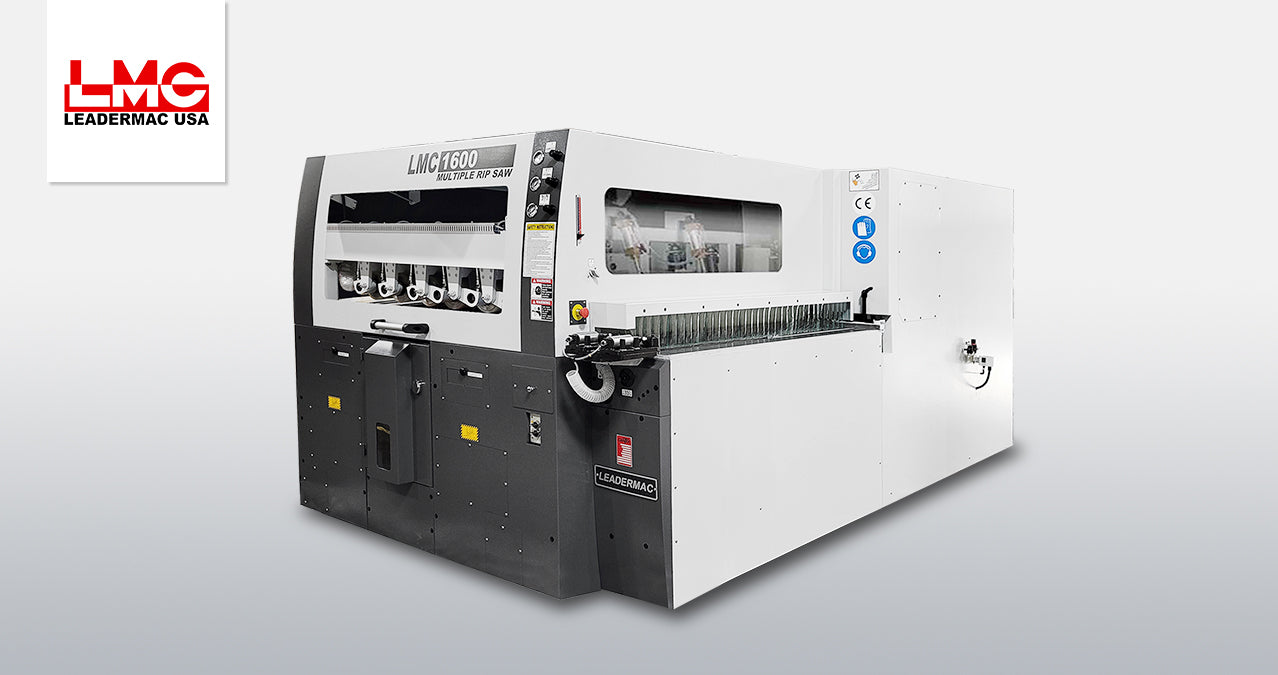 Leadermac | Panel Multiple Ripsaws
Original price
$50,000.00
-
Original price
$50,000.00
A powerful, precise, efficient, and economical unit all in one small package.
The Leadermac Panel Multiple Ripsaws are ruggedly constructed for maximum rigidity and stability. They are ideal for panel boards and laminated lumbers (MDF, particleboards, OSB, lumber or plastic materials, and other laminated materials). The Panel Multiple Ripsaws feature pneumatic pressure wheels to provide extra workpiece support on the infeed table, independently powered top and bottom infeed rolls for a smoother feeding of the workpiece, and an anti-rebound fence for operational safety and the infeed of the machine.
Why Leadermac Panel Multiple Ripsaws?
6 top rollers with pneumatic pressure system for smooth and stable feeding
4 bottom feed rollers for powerful infeed movement
The anti-rebound fence located on the infeed ensures operational safety
The infeed table is equipped with 1 auxiliary roller and 2 side pressure wheels
Hard chromed table for maximum resistance and durability
3 central dust hoods (6'' each) are used for dust collection
Inverter control for infinitely variable feeding speed
Ruggedly constructed for maximum rigidity and stability
Full safety enclosure with noise reduction
Powered elevation of feed rollers for convenient setting
The pressure gauges are mounted on the front side for easy adjustment
Remote control stand for greater operating experience
Key Advantages
Extra heavy main frame – stress relived
High precision spindle assembly with hydro-loc outboard bearing assembly on outboard end of shaft to provide the best in shaft ridgity
Entire spindle assembly slides out on heavy duty outboard support for quick, easy and precision saw setting & changing
Hardened & chromed infeed table
8 sets of top power driven rolls – full width
6 bottom power driven rolls – full width
Infinitely variable pneumatic pressure to top feed rolls
Feed roll drive is by cardan shaft drive with heavy duty gearboxes with universal shafts interconnected
Heavy duty VRD feed system – infinitely variable (yield speeds to 50, 100 or 200 FPM)
Main motor has wye-delta (soft-low amperage) start
Sound and safety enclosure included
Available options – include side head(s) & scoring saw(s) arbor ahead of the main arbor
Specifications

LMC 1300M

LMC 1600M

Working width

.6" – 51" (15 – 1300 mm)

.6" – 63" (15 – 1600 mm)

Working thickness

.4" – 2" (10 – 50.8 mm)
can do thicker if necessary

.4" – 2" (10 – 50.8 mm)
can do thicker if necessary

Up & Down motor

1 HP x 1

1 HP x 1

Feed Motor

15 HP

15 HP

Feed Speed, Infinitely variable

20 – 100 FPM (6 – 60 M/min.)

20 – 200 FPM (6 – 60 M/min.)

Spindle HP

100 HP

150 HP

Spindle diameter

80 mm (3.15") double keyed

80 mm (3.15") double keyed

Saw blade diameter

10" (255 mm)

12" (305 mm)

Available in 24″, 26″, 51″, 63″, and 98″ width capacities. Please contact us for more information.