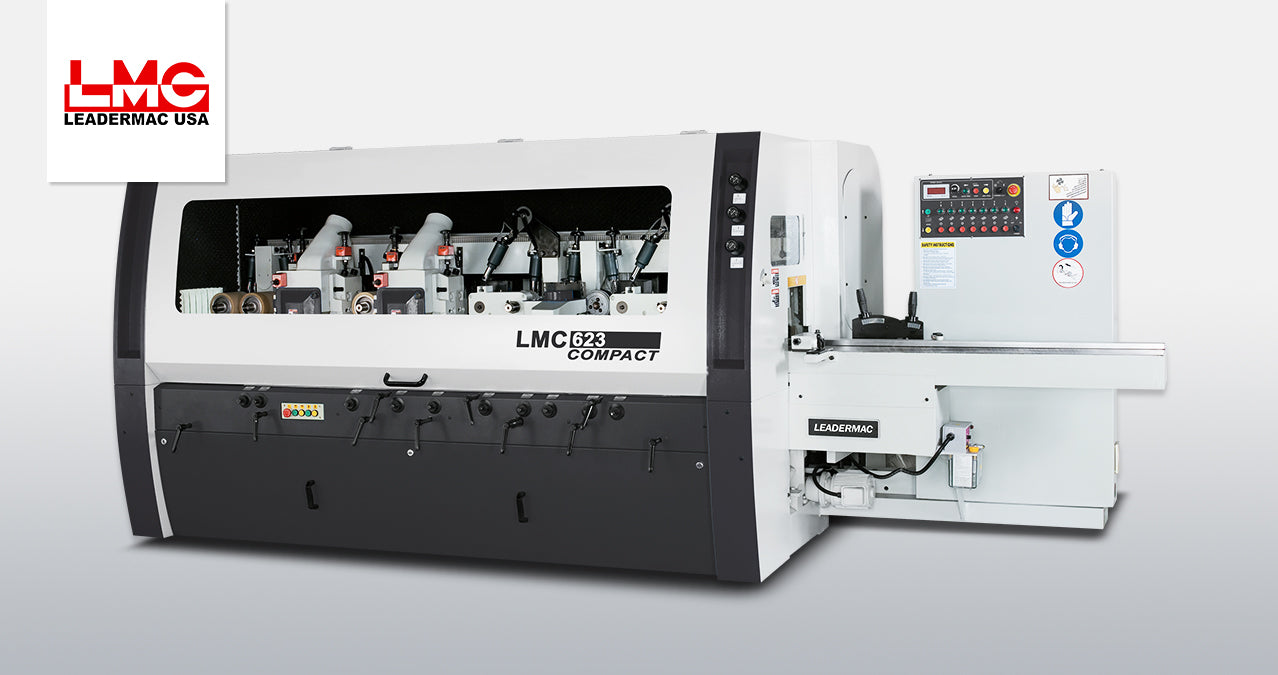 Leadermac | Compact Moulder Series
Original price
$50,000.00
-
Original price
$50,000.00
Powerful, precise, efficient moulder, available in a configuration to meet your requirements.
The Leadermac Compact Moulder Series has been designed to ensure a high-quality finish, with a range of options to meet your particular needs. The Compact is a tight coupled machine to ensure total control and smooth feeding of the workpiece as it passes thru. Many powerful features come standard with the Compact, ensuring fast and repeatable setups with reduced changeover time, allowing you to meet your production requirements day in and day out.
Why Leadermac Compact Moulder Series?
Industrial moulder design with a solid cast iron frame produces unparalleled finished part quality in its class.
Despite its competitive price point, the Compact moulder comes with high-quality components, ensuring the best finish possible.
The Compact moulders design ensures easy and consistent set up by your operator, ensuring quick changeovers and high-quality finished product results.
Turnkey solutions include on-site operator and maintenance training.
Key Advantages
Heavy-duty cast iron frame provides superior vibration damping, which produces superiorly finished parts and promotes long bearing & machine life.
Tightly coupled machine ensures smooth and consistent feeding to assist in producing high-quality finish.
All tables and fences hard chromed with approximately 0.012"-0014" thick hard chrome, which ensures maximum longevity.
Comes with more top-driven and bottom full-width driven feed rolls than other moulders of its size.
6000 RPM spindles each with (4) ABEC 6 precision bearings per spindle which provides smooth surface finish results.
All spindles driven by individual motors.
Pneumatic side holdover provides consistent side pressure to the fence.
Pneumatic hold down pressure to all top feed rolls provides consistent and repeatable pressure.
Pneumatic chip breakers ensuring consistent pressure.
Full width driven infeed & outfeed bed rolls.
Short stock feed roll station.
Dual SIKO quick set counters to assist in quick and accurate changeovers (other setworks systems available to increase automation).
Axial adjustment of last bottom head from front of machine.
Automatic and programmable table lubrication system.
Centralized grease lubrication system.
Safety sound enclosure is standard.
Pneumatic pressure to chip breakers, holdovers, and top feed rolls.
Specifications

| | |
| --- | --- |
| Working widths | 0.6″ to 9″, 12" and 13" optional |
| Working thickness | 0.25″ to 6″ |
| Number of spindles | 1 to 9 |
| Spindle RPM | 6000 RPM (7200 opt) |
| Standard feed speed | 20 to 80 FPM (Faster opt) |
| Minimum part length | 8″ (butt to butt) |
| Axial adjustment of vertical spindles | 1.6″ (standard) |
| Axial adjustment of horizontal spindles | 0.8″ (standard) |
| Infeed bed length | 78″ (2m) – standard. 98″ (2m) or 120″ (2.5m) |