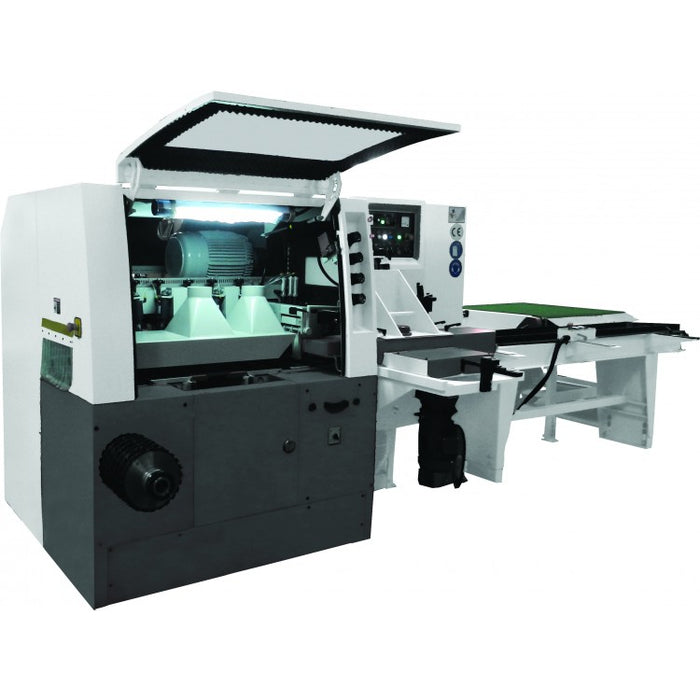 Leadermac | 131HM Roll Feed Short Block Ripsaw
Original price
$50,000.00
-
Original price
$50,000.00
Features
MAIN FRAME, MACHINE BED & ENCLOSURE
1 Piece – Extra Heavy 1 Piece Main Frame. Specially heat treated for maximum stability and minimum vibration
43" (1.1 meter) long Adjustable Infeed Table (adjustable .4 inch) – measured from Btm. Head Infeed Bed Plate – head end
All Bedplates, Tables and Fences are Hard Chromed
Lift up sound and safety Enclosure including safety interlocks and good lighting
DRIVE INCLUDES
Maintenance free Full Cardan Shaft Drive to feedworks for balanced drive performance, with individual worm reduction gear box to each feed roller station
Powered rise and fall to extra heavy duty feed support beam by 3/4 hp.
Upper support Beam is supported at both the Infeed and Outfeed ends on 2 large columns for the best, most rigid upper beam support.
All top feed rolls and pressure elements rise & fall with the top beam. Safety switches are included at extreme points
6 Top Driven Full Width Feed Rolls
All Top Rolls are air tensioned with 3 Stage Pressure Setting of Feed Rolls. This compensates for large variances in work piece thickness.
Top Steel feed rolls are hardened and chromed to resist wear and to prevent chips & shavings from sticking to them
4 Driven Bottom Rolls – all full width. All are Cardan Shaft drive
Infinitely variable feed speeds with inverter and feed speed LED display 20 – 165 FPM
(6 – 36 m/min) Feed motor power 10 hp
Feed roll diameter 5.5" / 140mm

SPINDLE ASSEMBLY
Spindle is Standard 3200 RPM and belt driven (other RPM's – optional – no charge)
50mm diameter spindle with 70mm OD with Dble Keys – Gang Sleeve
Spindles are manufactured from SCM-439 tool steel (Imported from Mitsubishi-Japan) with special heat treating to HR 55C Hardness fitted with 2 pairs of NSK-RHP ABEC 7 Duplex Super high precision high speed Bearings to provide the best in cutting stability with permanent accuracy. Spindle Tolerance is guaranteed to +/-0.002mm / 0.00007" accuracy. They are permanent grease lubricated and are labyrinth sealed to prevent against dust and water.
Hydro-Loc Quick change Outboard Bearing Assembly on end of the shaft
Electric Height Adjustment of spindle from front – Easy to operate station
Std. HP
Swing
Hood Size
Bottom Spindle
75 HP
10″
7.9″ (200mm)
Note: Larger or smaller HPs available
CHIPBREAKERS, FENCES & HOLDOWNS/HOLDOVERS, ETC.
Tables, Bedplates, Pressure Plate and Fence is Hard Chromed
MISCELLANEOUS features and inclusions
Centralized lubrication system to all main slides
Dust Hood
Toolkit, Instruction and maintenance manual, electrical diagram and parts list
ELECTRICAL
TECO-Westinghouse or Siemens – Electric Motors – excellent quality & heavy duty
Limit switch at infeed to prevent feeding oversized material and double ups
I.E.C. – Telemecanique-Square D Electrics meet or exceed UL/CSA Standards
Machines are equipped with Wye-Delta Soft Starters, main disconnect, multiple E Stops and 230/460 or 575/3/60 electrics.
Specifications

| | |
| --- | --- |
| Thickness Material | .4" to 2.25"  Note – to .25" thick and/or to thicker is optional |
| Width Material | 12.2" – between outside blades |
| Minimum Length Material: | 7.8" (200mm) |