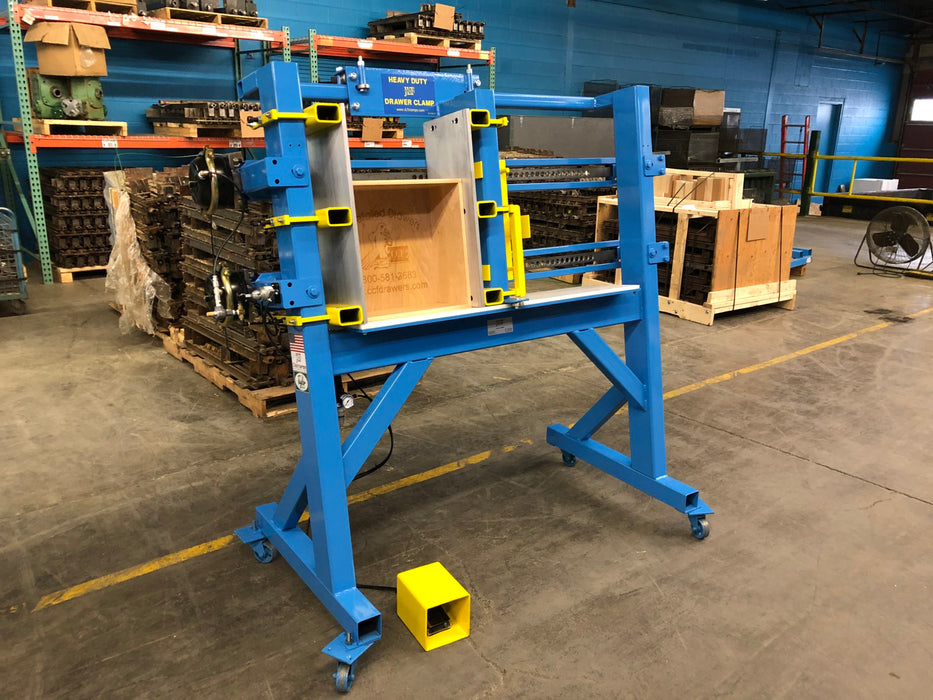 JLT | #190B-M3 Heavy Duty Drawer Clamp
Original price
$5,975.00
-
Original price
$5,975.00
Designed for High Production and Custom Shops who Build their own Drawer Boxes
Successfully Clamp and Square both Dovetail & Doweled Drawer Boxes
Features:
(2) Standard Machine Frames

10″ x 24″ x 36″ Maximum Capacity
12″ x 24″ x 48″ Maximum Capacity

Easy to Use and Intuitive Air System
Quick Adjusting Roller Carriage Eliminates Set-up for Faster Changeovers
Aluminum Side Pressure Plates Provide a Solid, Flat Clamping Surface
Dual Fast Acting Horizontal Pneumatic Clamps with a 2″ Stroke.
The JLT Heavy Duty Drawer Clamp is Designed to Clamp and Square all Doweled and Dovetail Drawer Construction Types. Our Design is Heavy Duty, Sturdy, Intuitive to Use, and Built to Last. It has Precise Squaring Capabilities with ample Clamping Pressure for your Boxes. A Quick Adjusting Roller Carriage Eliminated Setup Times when moving from Size to Size, and our Fast Acting Pneumatic System will Clamp and Square the Drawer in (2) Seconds.
Machine Footprint: 70″L x 60″H x 36″W