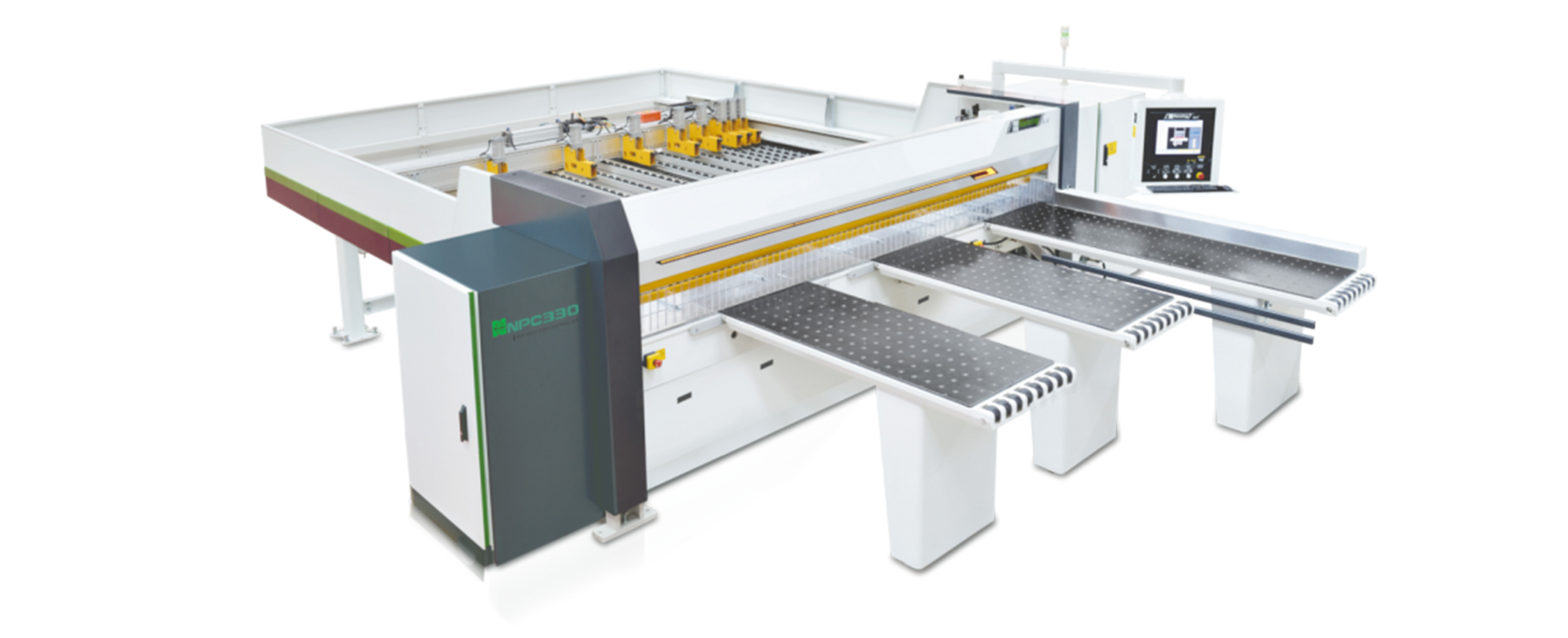 Giben | NPC 330
Original price
$50,000.00
-
Original price
$50,000.00
NPC 330 FEATURES:
Pressure Beam automatically self-adjusts according to the total height of panel.

Saw carriage automatically moves to fit panel width.

Main saw and scoring saw have independent movements.

Movements are self-adjusted minimizing the lifting height for efficiency giving best finish.

Scoring saw moves up to down and front to back. Adjustable by software offering intelligent, fast and easy elements.

Quick exchange of main saw blade.

Easy to use powerful software included for managing the work process with detailed reports, simulating cutting patterns, printing barcode and showing of any error messages. Software is user friendly, HMI.
Specifications

| Model | NP280FG | NP330 | NP380 |
| --- | --- | --- | --- |
| Cutting length | 2800mm | 3300mm | 3800mm |
| Cutting thickness | 90mm | 90mm | 90mm |
| Main saw rotating speed | 3910rpm | 3910rpm | 3910rpm |
| Scoring saw rotating speed | 4300rpm | 4300rpm | 4300rpm |
| Saw carriage forward speed | 90 m/min | 90 m/min | 90 m/min |
| Saw carriage backward speed | 120 m/min | 120 m/min | 120 m/min |
| Main saw motor | 15kw | 15kw | 15kw |
| Auto feeding speed | 85 m/min | 85 m/min | 85 m/min |
| Dust extraction | φ150mm×3 | φ150mm×3 | φ150mm×3 |
| Total power | 23.5kw | 23.5kw | 23.5kw |
| Overall size | 6900 x 4950 x 1820mm | 6900 x 5400 x 1820mm | 7400 x 5900 x 1820m |
| Net weight | 4800kg | 5300kg | 6600kg |
| Model | NP280FG | NP331 | NP381 |
| Cutting length | 2800mm | 3300mm | 3800mm |
| Cutting thickness | 90mm | 90mm | 90mm |
| Main saw rotating speed | 3910rpm | 3910rpm | 3910rpm |
| Scoring saw rotating speed | 4300rpm | 4300rpm | 4300rpm |
| Saw carriage forward speed | 150 m/min | 150 m/min | 150 m/min |