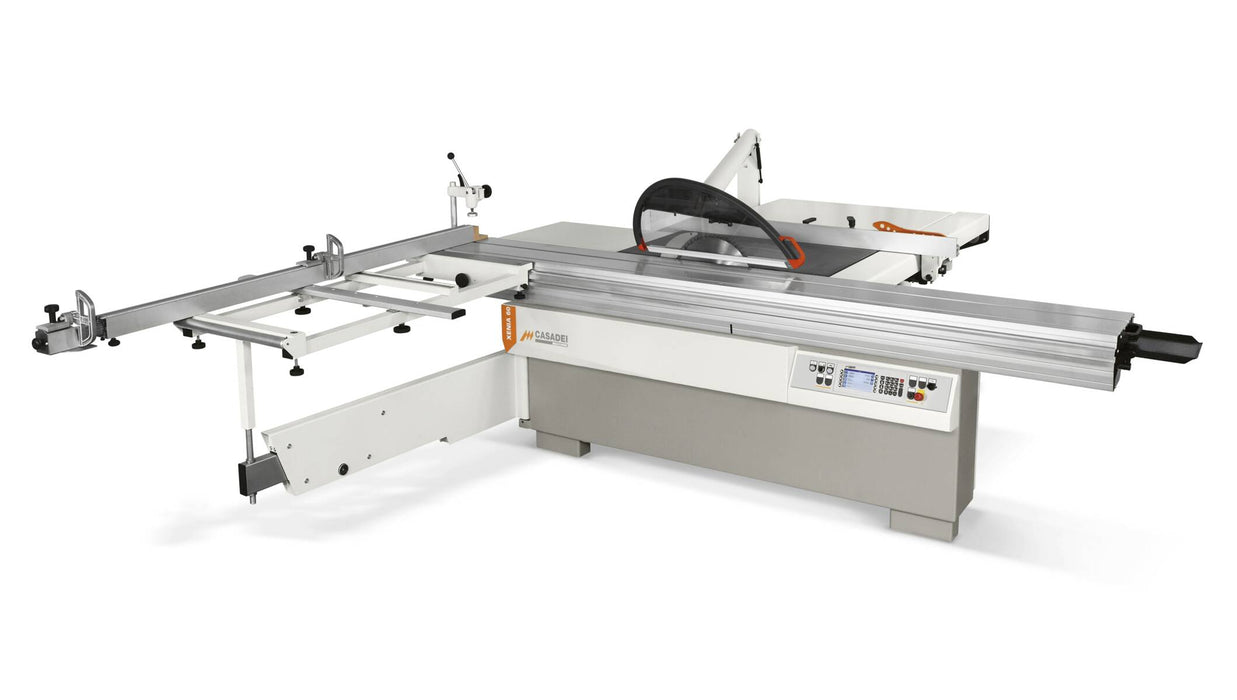 Casadei | XENIA 60
Original price
$50,000.00
-
Original price
$50,000.00
The new range of Casadei XENIA 60 automatic sliding table panel saws has been designed to fulfil the requests of a more and more demanding and qualified market.
ADVANTAGES
Reliability: Sliding system with prismatic guideways and preloaded ball bearings, for smooth and precise sliding table travel. All machine frame contact surfaces are machined to guarantee perfect planarity, impeccable precision and durability.
Ergonomics: All machine controls are on the front side of the machine within easy reach of the operator. Available in manual version and also with numerical control which allows all machine axes to be controlled.
Sturdiness: Machine frame of notable thickness and solid construction.
Specifications

 
XENIA 60

Squaring capacity with extended stop:
with 3200 mm carriage
with 3800 mm carriage


3200x3200 mm
3800x3200 mm
Cutting width on rip fence
1270 mm
Blade tilt
45°
Max. cutting height at 90 deg. (blade 400 mm)
140 mm
Max. cutting height at 90 deg. (blade 400 mm)
99 mm
Saw blade motor power at 50 Hz (S6)
7 kW / 9,5 HP
Saw blade motor power at 60 Hz (S6)
8 kW / 11 Hp
Scoring blade motor power at 50 Hz (S6)
1,3 kW / 1,7 HP
Scoring blade motor power at 60 Hz (S6)
1,5 kW / 2 Hp