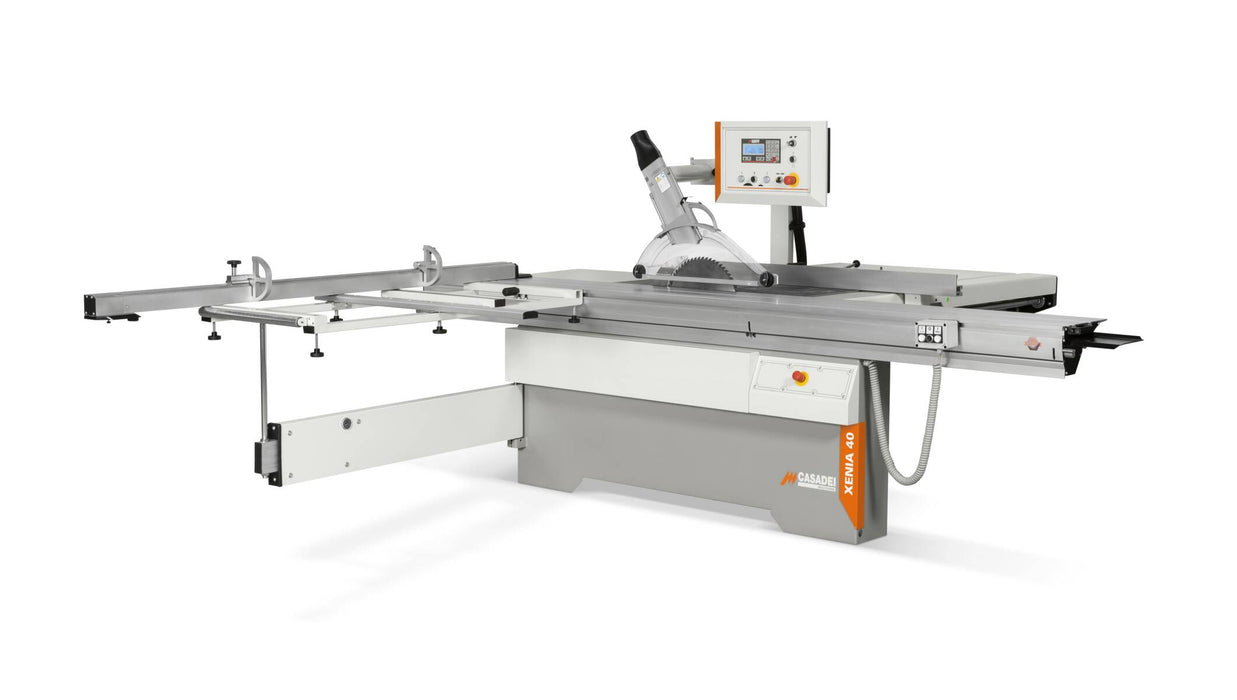 Casadei | XENIA 40
Original price
$50,000.00
-
Original price
$50,000.00
The Casadei XENIA 40 sliding table panel saw with tilting blade meets the needs of a market that requires high cutting quality and excellent performance. Extremely flexible machine available in manual, motorized and automatic versions with the possibility of lifting, tilting and positioning parallel guide with numerical control.
ADVANTAGES
Reliability: Sliding system with prismatic guideways and preloaded ball bearings, for smooth and precise sliding table travel. All machine frame contact surfaces are machined to guarantee perfect planarity, impeccable precision and durability.
Ergonomics: All machine controls are on the front side of the machine within easy reach of the operator. The powered tilt and lifting of the saw units guarantees rapid adjustment.
Sturdiness: machine frame of notable thickness and solid construction.
Specifications

| | | |
| --- | --- | --- |
|   | XENIA 40 | XENIA 40M |
| Squaring capacity with extended stop | 3200 x 3200 mm | 3200 x 3200 mm |
| Max. blade diameter | 400 mm | 400 mm |
| Ripcutting capacity | 1270 mm | 1270 mm |
| Motor power (S6) at 50 Hz | 7 kW / 9,5 Hp | 7 kW / 9,5 Hp |
| Motor power (S6) at 60 Hz | 8 kW / 11 Hp | 8 kW / 11 Hp |
| Scoring unit motor power (S6) at 50 Hz | 1,3 kW / 1,7 Hp | 1,3 kW / 1,7 Hp |
| Scoring unit motor power (S6) at 60 Hz | 1,5 kW / 2 Hp | 1,5 kW / 2 Hp |