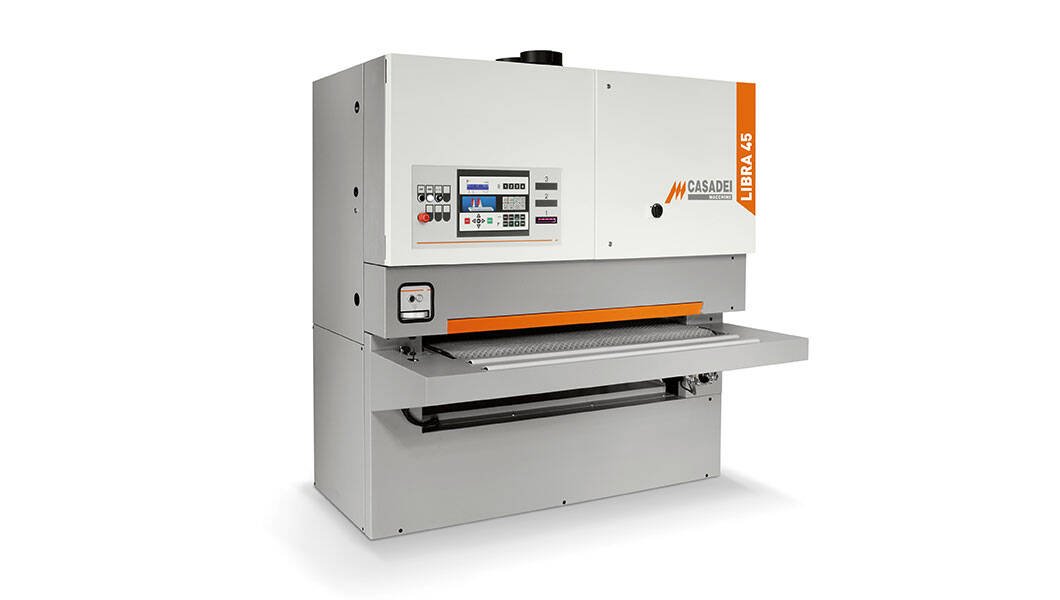 Casadei | LIBRA 45
Original price
$50,000.00
-
Original price
$50,000.00
Equipped with technical solutions normally found on larger machines, the LIBRA 45 wide belt sander is a versatile and flexible machine capable of coping with high production rates.
ADVANTAGES
Reliability: Precision, machining consistency, low noise level and great reliability are the main features of this model.
Flexibility: Available with one or two operating units and with two different working widths (1100 and 1350 mm), it allows calibration, pre-sanding and sanding of a variety of different materials with a high quality finish. The wide range of different compositions and the options available make the LIBRA 45 the ideal machine for processing solid wood, veneered, honeycomb and lacquered panels.
Sturdiness: A very rigid machine frame with tubular structure made using a robotic welding system.
Specifications

| | | |
| --- | --- | --- |
|   | LIBRA 45 - 1100 | LIBRA 45 - 1350 |
| Working width | 1100 mm  | 1350 mm |
| Min. ÷ Max. working height | 4÷170 mm | 4÷170 mm |
| Sanding belt width | 1115 mm  | 1370 mm |
| Sanding belt length | 2150 mm  | 2150 mm |
| 2 feed speeds | 4,5-9 m/min  | 4,5-9 m/min |
| Feeding motor power (HP)  | 0,45/0,8 kW (0,6/1,1 Hp)  | 0,45/0,8 kW (0,6/1,1 Hp) |
| Main motor/s power | 11 kW (15 Hp) | 11 kW (15 Hp) |