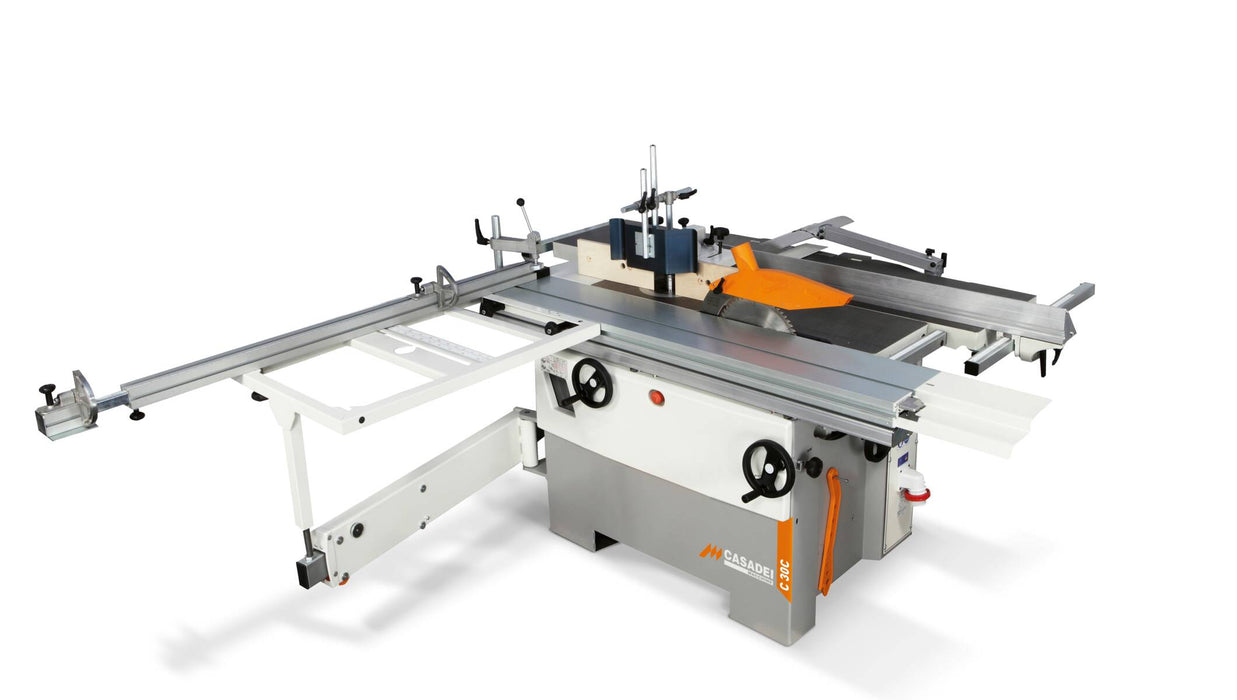 Casadei | C 30 C / C 41 C / C 41 ES
Original price
$50,000.00
-
Original price
$50,000.00
The universal combined machine models C 30 C - C 41 C - C 41 ES are modern multi-function machines designed with the construction methods and technologies of professional machines.
ADVANTAGES
Flexibility: the wide range of options available make the C 30 C, C41C and C 41 ES combined machines suitable for any machining type. Standard equipment includes 3 powerful independent motors, tilting saw blade, telescopic supporting arm and large dimensioned crosscutting frame to support large panels or heavy solid wood components. Quick machining changeover.
Sturdiness: thick, monolithic steel frame guarantees great construction stability.
Specifications

C 30 C 
C 41 C
C 41 ES
SURFACE PLANER
Maximum working width
300 mm
410 mm
410 mm
Total length of surface tables
1510 mm
1800 mm
2200 mm
THICKNESSING PLANER
Maximun working width
300 mm
410 mm
410 mm
Min./max. working height
3/230 mm
3/230 mm
3/240 mm
Feed speed on thicknesser
7 m/min
7 m/min
6/12 mm
CIRCULAR SAW
Max. squaring stroke with crosscutting frame
1600 mm
1600 mm
2250 mm
Max. diameter of saw blade with installed scoring unit
315 mm
315 mm
350 mm
Cutting width on rip fence
820 mm
900 mm
1000 mm
SPINDLE MOULDER
Max. spindle working height
100 mm (70 ¾")
100 mm (70 ¾")
~ 125 mm
Spindle moulder speed at 50 Hz rpm
3500 / 7000 / 10000
3500 / 7000 / 10000

3500 / 6000 / 8000 / 10000

MAIN TECHNICAL DATA
Motor power (no. 3 motors) at 50/60 Hz (HP) 
5 kW (6,6) / 6 kW (8)
5 kW (6,6) / 6 kW (8)
5 kW (6,6) / 6 kW (8)