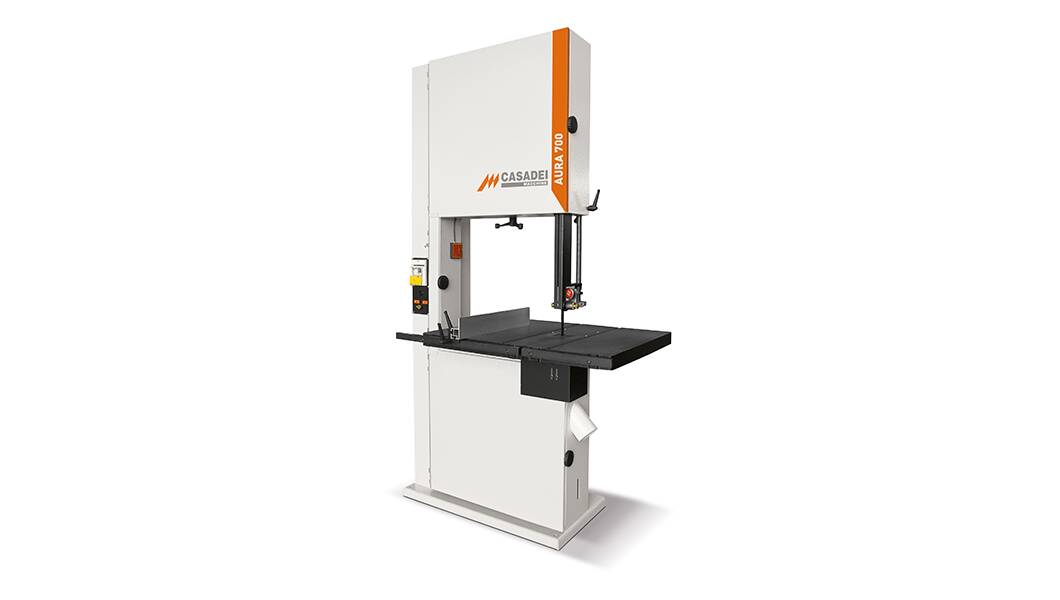 Casadei | AURA
Original price
$50,000.00
-
Original price
$50,000.00
The Aura series band saws have been designed to suit craftsmen and small companies who require a product which guarantees a good price/quality ratio.
ADVANTAGES
Sturdiness: The Aura series band saws are exceptionally sturdy. All models are equipped with electronically balanced cast iron fly-wheels for optimum performance.
Flexibility: The range is composed of 6 models to answer the requirements of any user.
Specifications

| | | | | | | |
| --- | --- | --- | --- | --- | --- | --- |
|   | 400 | 460 | 560 | 700 | 800 | 900 |
| Cast iron fly-wheels Ø | 400 | 460 | 560 | 700 | 800 | 900 |
| Wheel width | 25 | 25 | 35 | 40 | 40 | 50 |
| Table size | 500x450 | 540x490 | 620x730 | 700x930  | 1130x800 | 1130x800 |
| Table tilting | 0°÷20°  | 0°÷20°  | 0°÷20°  | 0°÷20°  | 0°÷20°  | 0°÷20°  |
| Max. cutting height | 280 mm  | 280 mm  | 370 mm  | 430 mm  | 500 mm | 560 mm |
| Max. cutting width | 390 mm  | 450 mm  | 550 mm | 670 mm  | 785 mm  | 885 mm |
| Band speed | 18 m/s | 18 m/s | 18 m/s | 18 m/s  | 25 m/s  | 25 m/s |
| Blade length | 3500 mm | 3750 mm  | 4450 mm  | 5070 mm  | 5550/5470 mm | 6100/6020 mm |
| Blade width | 6÷25 mm  | 6÷25 mm  | 10÷35 mm | 10÷40 mm | 10÷45 mm | 10÷55 mm |
| Motor power a 50 Hz | 1,8 kW (2,5)  | 1,8 kW (2,5) | 2,6 kW (3,5) | 3,6 kW (4,8) | 4,8 kW (6,5) | 6,6 kW (9) |