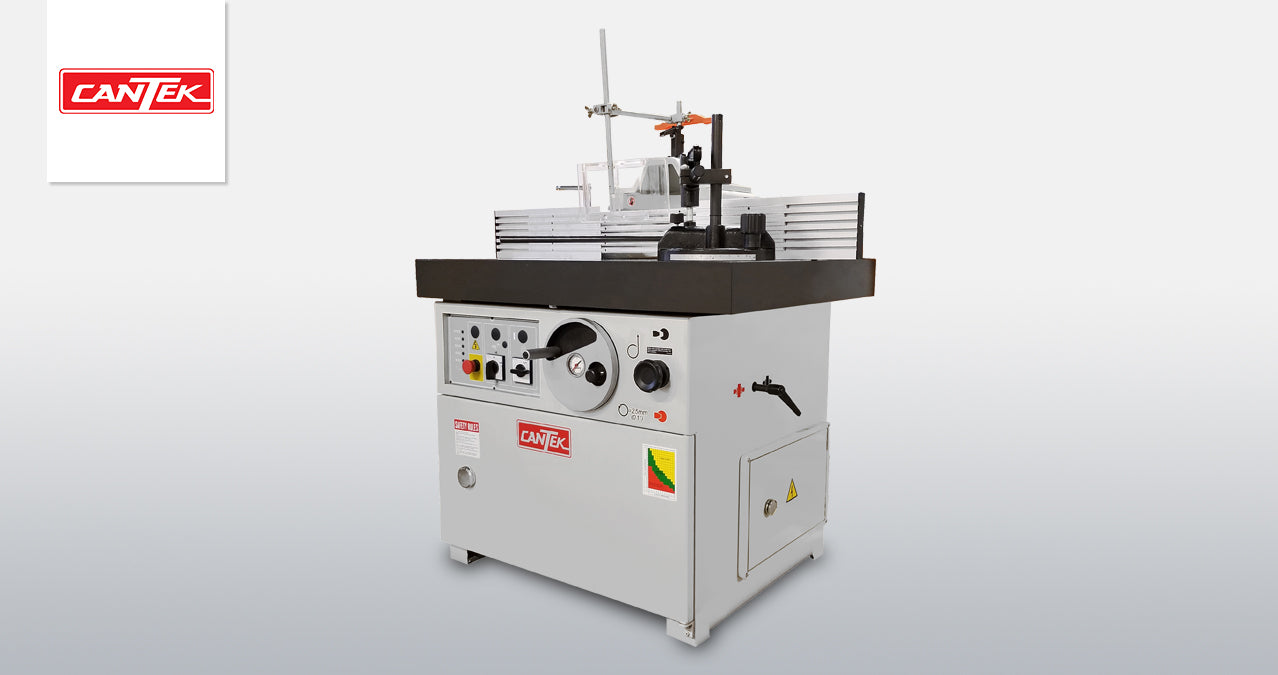 CANTEK | SS512CB 7.5HP Spindle Shaper
Original price
$9,100.00
-
Original price
$9,100.00
Production 7.5 HP shaper.
The Cantek SS512CB shaper is a ruggedly built shaper with refined features well suited for demanding production environments. Its' versatile design makes it the ideal shaping solution for edge-profiling, door & furniture components, mouldings, tenoning, and more. The powerful dual direction 7.5HP driven spindle allows for optimum shaping even with large profiles. The heavy-duty cast-iron table and shaping column ensure maximum stability with superior vibration damping for optimum finish quality.
Why Cantek SS512CB Shaper?
1 ¼" interchangeable spindle is standard (other sizes available)
Large cast-iron table is ground and polished for maximum stability and durability
Powerful 7.5 HP motor for even the most demanding profiling work
Five spindle speeds can be easily adjusted to suit your tool diameter
Electronic spindle brake for added safety and facilitates with fast changeover
Precision fence assembly with micro infeed and outfeed fence adjustment
Finger style fence allows fence to be adjusted around the cutter for added safety and workpiece stability
Key Advantages
Cast iron ground & polished table with insert rings & t-slot for mitre / tenoning jig
Precision ground and electronically balanced spindle
V-belt drive with (5) spindle speeds is easily accessed from the front of the machine (3/4/6/8/1000 RPM)
Electric spindle brake for added safety
Spindle lock – with limit switch safety, machine will not start with lock engaged
Micro spindle height adjustment with dial indicator for precise height adjustment
1 ¼" Interchangeable cutter spindle is standard
Forward/reverse spindle rotation
Adjustable "finger" type fence
Independent micro-fence adjustment on both sides
Plug to accept Cantek Power Feeder and table is pre-drilled for mounding feeder base
Includes the following standard equipment:

1 ¼" spindle
(1) 5" dust chute on guard & (1) 4" dust chute in the table
Safety guard
Mitre tenoning jig
Specifications

| | |
| --- | --- |
| Table size | 31 ½" x 39.4″ |
| Spindle speeds (5) | 3000/4000/6000/8000/10000 RPM |
| Spindle taper | 5 MT |
| Spindle diameter | 1 ¼" |
| Motor | 7.5 HP |
| Largest diameter of cutter: |   |
|      Above table | 13 ¼" |
|      Below table | 8 ¼" |
| Fence size | 6″ x 43″ |
| Vertical spindle stroke | 7″ |
| Useable length of spindle | 5 ½" long |
| Dust port | (1) 5″ on guard,  (1) 4″ in table |
| Total HP | 7.5 HP |
| Net weight | 1034 lbs. |
| Machine dimensions | 48.4″ x 39.4″ x 52 ¾" |
| Shipping weight | 1166 lbs. |
| Shipping dimensions | 45 ¼" x 37″ x 41″ |
| Machine electrics | 230/3/60 = 22 amps |