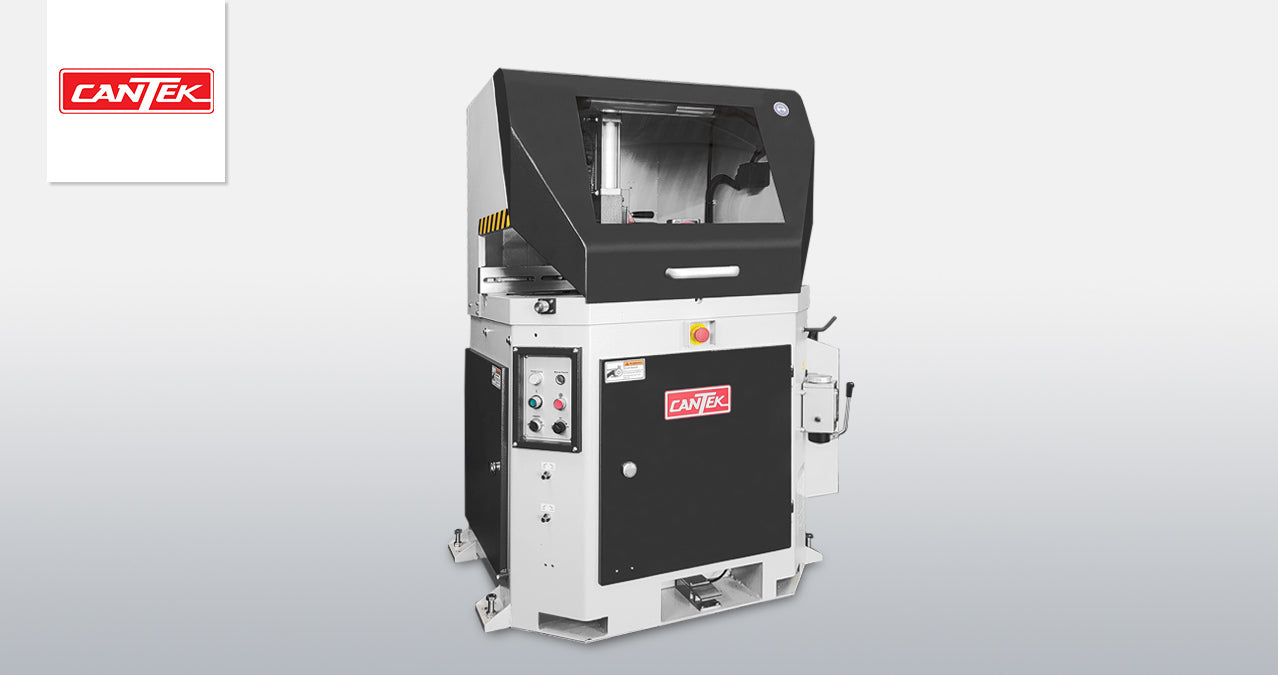 CANTEK | PCM508 20" Miter Cutting Chop Saw
Original price
$16,000.00
-
Original price
$16,000.00
Large capacity miter cut-off saw is built for production.
The Cantek PCM508 20" Miter Cut-Off Saw is a precision pneumatic saw designed for cutting miters up to 60o in either direction. The saw is automatically cycled pneumatically and activated by a foot switch to allow for fast positioning of the workpiece. Capable of production cutting with up to 40 cuts per minute. The cutting speed is adjustable to ensure the optimum finish result on your workpiece no matter the species or size. The rotary table runs on ball bearings to ensure effortless rotation of the blade according to the desired cutting angle. The workpiece is clamped pneumatically, and the clamping guard runs on linear guideways for smooth and fast clamping operation. The PCM508 is available with optional infeed and outfeed conveyor systems with manual stops or can be fitted with an automatic stop system such as Tigerstop for added productivity.
Why Cantek PCM508 20″ Miter Cut-Off Saw?
20" blade driven by powerful 7.5 HP motor
Manually swivelling saw blade can cut miters up to 60o either left or right
Quick index pin at set angles which can also be locked manually at any angle
Pneumatic foot pedal operation with adjustable cutting stroke for optimum finish results
Pneumatic clamping mechanism runs on linear guideways to ensure smooth and fast clamping of the workpiece
Precision ground and polished cast iron table
Key Advantages
Safety enclosure surrounds the saw blade to ensure safe operation with reduced noise
Infeed and outfeed fences are precision ground and are adjustable to achieve the maximum cutting requirement
Cabinet light included to illuminate the saw area
Oil lubrication unit to lubricate the rotary table to ensure smooth adjustment
High quality Schneider electrical controls
Can be purchased with optional infeed & outfeed conveyors with manual stops or can be easily paired with an automatic stop to increase productivity
Optional dual push button control
Specifications

| | |
| --- | --- |
| Cutting angles | +60° ~ 0° ~ -60° |
| Cycle speed | 30~45 cuts/min |
| Saw blade size | 20″ |
| Saw arbor diameter | 1″ |
| Saw blade speed | 3100 RPM |
| Dust exhaust diameter | Ø4″ x (2) |
| Motor | 7.5 HP |
| Table size | 36″ x 36″ |
| Net weight | 1188 lbs |
| Gross weight | 1452 lbs |
| Packing dimensions (L x W x H) | 51.5″ x 43.3″ x 63″ |