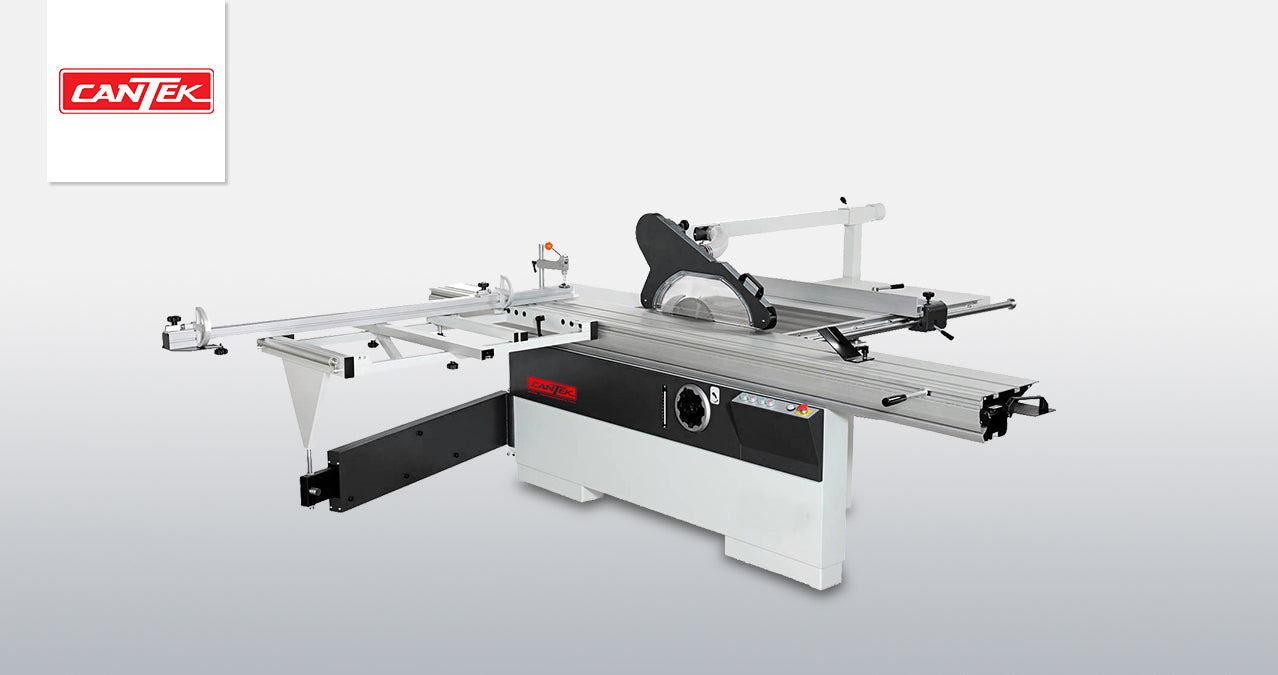 CANTEK | P305 10' Sliding Table Saw
Original price
$9,900.00
-
Original price
$9,900.00
Powerful features in a small footprint sliding panel saw.
The Cantek P305 10' Sliding Table Saw is built for the budget conscious user that still wants precision and accuracy. The P305 has a precision sliding table which runs on ball bearings and hardened steel guide strips. It is equipped with individual motors for the main saw blade (5 HP) and scoring blade (1 HP). The blade height and tilt is manually adjusted by means of individual handwheels. The angle of the blade is displayed by a linear scale for added operator convenience. The rip fence runs on a round hardened rail and is manually adjusted up to 51". Equipped with a extendable crosscut miter fence and flip stops.
Why Cantek P305 10′ Sliding Table Saw?
Precision anodized aluminum sliding table with ball bearing guide system for smooth table movement
Powerful 5 HP main motor with 1 HP scoring motor
Heavy duty cast-iron rip fence with 51" cutting capacity
Aluminum crosscut miter fence with (2) flip stops and dual inch/metric scales
Manual rise/fall the main saw blade
Manual tilting of the saw blades with angle indicator conveniently located by adjustment handwheel
Overarm blade guard with build in dust port
Key Advantages
Solid cast iron main table which is ground and polished
Heavy-duty outrigger for strong support of workpiece during cutting operations
Solid rip fence with manual fine adjustment and locking lever
Easy to access external scoring adjustment
Convenient eccentric manual scoring adjustment
Extension table at side and back of main table
Equipped with set of main and scoring blades
Included: Eccentric hold down clamp & wedge for solid wood ripping included
Specifications

 

Inch

Metric

Cast iron fixed table dimension

59″ x 68″

1500 x 1726mm

Sliding table dimension

126" x 14″

3200 x 360mm

Max. main saw blade diameter

12"

305 mm

Main saw bore

30mm

Max. cutting height with blade at 90o

3.54"

90 mm

Max. cutting height with blade at 45o

2.48"

63 mm

Main motor power

5 HP

Main blade speed

4000 RPM

Scoring saw blade

120 mm

Scoring saw blade bore

20 mm

Scoring blade motor power

1 HP

Scoring blade speed

8000 RPM

Blade tilt

0 – 45o

Max. ripping width

51"

1300mm

Dust collection ports

(1) 4" / (1) 2.3"

(1) 100mm / (1) 60mm

Machine weight

1206 lbs.

548 kgs

Machine shipping weight

1435 lbs.

652 kgs

Machine shipping dimensions

83″ x 45 ½" x 44″

2110 x 1150 x 1120mm

Sliding table weight

176 lbs.

80 kgs

Sliding table shipping weight

227 lbs.

103 kgs

Sliding table shipping dimensions

130″ x 17″ x 9″

3300 x 430 x 220mm

Electrics

230/1/60 = 36 Full Load Amps

230/3/60 = 19.4 Full Load Amps

575/3/60 = 8 Full Load Amps