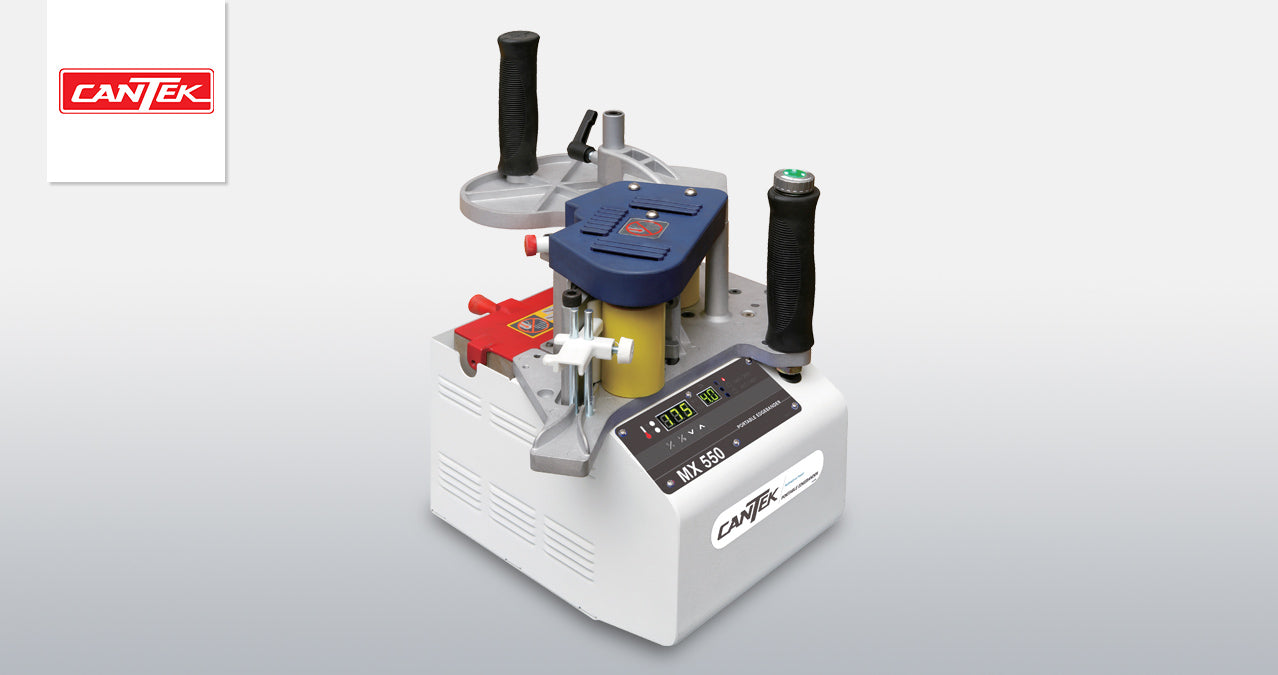 CANTEK | MX550AU Automatic Edgebander
Original price
$2,800.00
-
Original price
$2,800.00
Take your edgebander to the job site and edgeband straight or curve parts.
The Cantek MX550AU Portable Edgebander Package is a versatile portable edgebanding solution for the hobbyist or industrial user. It is capable of edgebanding radius or straight workpieces and can be operated as a handheld unit (standard) or a stationary system with the optional table accessory. The edgebander is equipped with a glue pot which uses granulated hot melt glue with an operating temperature range from 120oC to 200oC (250oF to 390oF). The full kit includes the portable edgebander, power trimmer, workpiece clamp set, and dual end cutter. The package also comes with packaging for each item and a dolly to make is extra easy to take with you to the site.
Why Cantek MX550AU Portable Edgebander Package?
Can apply edgebanding material from 0.4~3mm thick
Straightforward operation with ergonomic handles and material support plate
Simple maintenance
Edgebands straight as well as curved surfaces
Light weight & portable unit which can be taken to the jobsite
Automatic glue application with adjustable glue amount control
Works on 75-90° surfaces
Glue pot with quick heating time of approximately 8 minutes
Variable feed speed from 6.5~20 FPM (2-6 m/min)
Ergonomic Controls
Rubber Grips and Metal Support Plate
Two rubber grips allow for precise control of the edgebander while a metal support plate is designed to rest on the workpiece to allow for accurate and simple operation.
Adjustable Glue Pot Handle
The glue pot handle has two positions in case of work piece interference.
Tape Insert Guide
A measured guide in increments of 1mm determines the width of the edgebanding or edging tape and secures it in place for a regulated feed.
Consistent Glue Application
A knob allows for on-the-fly regulation of glue amount for a mess-free, consistent result.
Digital Temperature Monitor
A digital temperature monitor provides accurate control over glue application. Temperature ranges are 120°C – 200°C ±1°C (250°F – 390°F ±34°F)
Simple Operation
Straightline and Contour Edgebanding
Our portable edgebanders are perfect for all varieties and shapes of workpieces. For contoured or curved surfaces, the minimum interior radius is 25mm (1").
Hotmelt Glue for Edgebanding Bond
The glue is applied directly onto the edgebanding or edging tape. Maintain steady pressure on the workpiece against the feeding roller to apply the edgebanding or edging tape at desired temperature.
Glue-Free Edgebanding
Save money on your edgebanding as the MX550 uses standard tape and does not require pre-glue edgebanding.
Material Compatibility
The MX550 can work with PVC, melamine, laminate, wood and metal edgebanding and edge tape of 0.3mm – 3mm thickness and 10mm – 65mm width.
Angle Adjustment
Our edgebanders can operate on tilted surfaces of 75°-90°, making beveled surfaces as simple as straight ones.
Quick to Start
The MX550 edgebander requires approximately 8 minutes to obtain operating temperature with a full pot of glue. Heat up time is reduced with less glue in the pot.
Built to Last
Quality construction and rigorous testing ensure the MX550 will perform time after time.
Portable and Stationary Use
Designed for transportation and space-efficiency, our MX550 comes with a durable and lightweight case. For handheld operation, workpieces can be secured with our VH03N Vacuum Clamp Set. For stationary operation, the MX550 can also be secured to our optional ST95B Stationary Worktable depending on your needs.
Specifications

| | |
| --- | --- |
| Tape thickness | 0.4 ~ 3mm (0.0016~0.118") |
| Width of tape | 10 ~ 65mm (0.4~2.55") |
| Feeding speed | 2 ~ 6 m/min (6.5~20 FPM) |
| Output power | 1.15 HP (855 W) 115/1/60 |
| Glue pot temperature | 120oC~200oC (250oF~390oF) |
| Glue pot capacity | 400 ml (13.5 oz) |
| Unit weight | 8.7 kgs (19 lbs) |