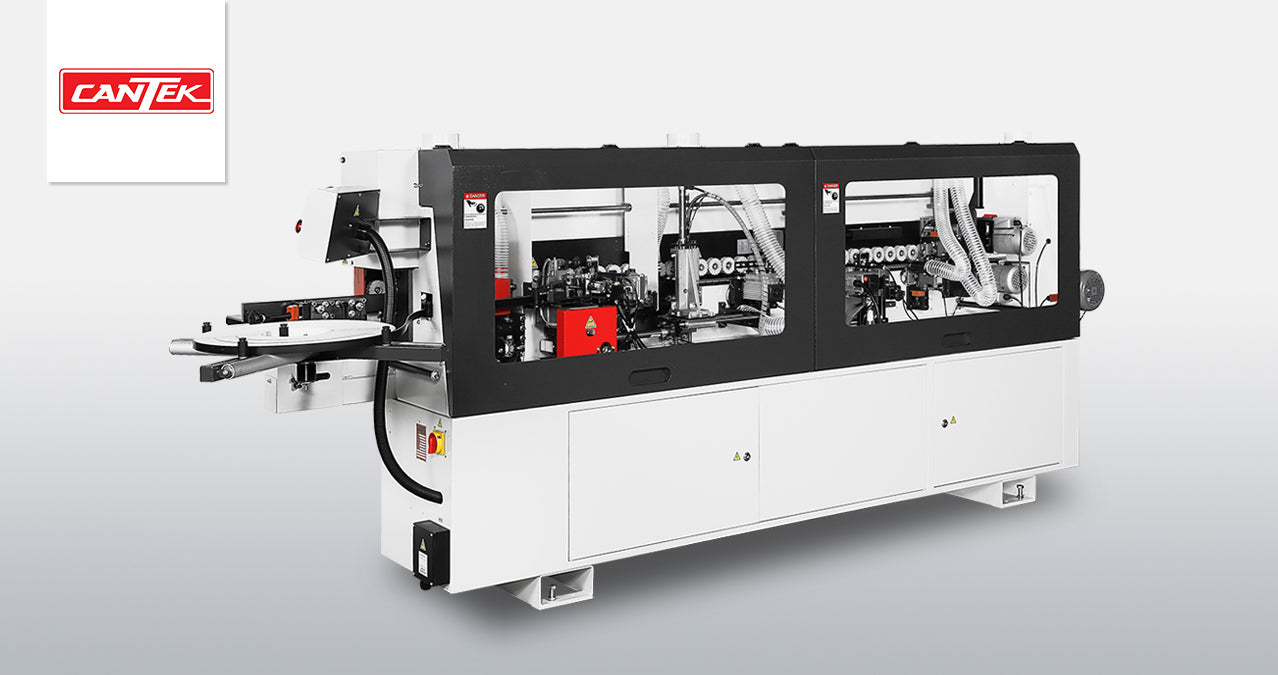 CANTEK | MX370P Automatic Edgebander
Original price
$33,700.00
-
Original price
$33,700.00
From cabinet parts to cabinet doors, this edgebander can do it all.
The Cantek MX370P Automatic Edgebander with Premilling and Corner Rounding is designed to be a compact and durable edgebander offered at an affordable price. This machine is equipped with premilling, end trimming, flush trimming, corner rounding, PVC scraping, and buffing. User-friendly controls and adjustments allow for efficient changeovers of edge tape thicknesses between 0.4mm & 3mm.
Why Cantek MX370P Edgebander?
Versatile edgebander capable of applying 0.4mm to 3mm edge tape.
Quick change glue pot allows you to change glue colours in minutes.
Premilling ensures a perfectly square edge and clean panel to work with, resulting in a minimally visible glue joint.
The corner rounding function finishes the ends of cabinet doors and more with a radius edge, eliminating any manual rework of the panel.
Key Advantages
Automatic edge feeding with a thickness capacity of 0.4–3 mm; strip material can be hand-fed.
Conveyor chain feed system for reliable results.
Teflon-coated hot-melt glue pot.
Heated infeed fence for pre-heating the panel for optimum glue penetration.
PLC control system with LED display and keypad.
Workpiece is fed by chain.
Edge coil support plate: Ø 800mm (31 ½"), for PVC/ABS.
Spring-loaded pressure unit with (2) pressure rollers.
Heavy-duty pressure beam with extendable workpiece support.
Working Units
PREMILLING UNIT
High-frequency pre-milling units can remove up to 3mm and are designed to provide an ideal edge for applying edge tape by cleaning up poorly cut panels.
(2) counter-rotating diamond cutterheads for optimum results and longevity.
END TRIM
High frequency 12000 RPM end trimming unit, with Ø100mm (4") TC-Saw blades.
TOP & BOTTOM TRIM
High frequency 12000 RPM top & bottom trimmers with insert knife cutters for radius trimming & bevel trimming.
CORNER ROUNDING
High-frequency corner rounding unit can process 0.4-3mm thick edgebanding by tracing the shape of the panel.
RADIUS SCRAPING
Radius scraper with 2mm radius.
BUFFING
3000 RPM top & bottom buffing units to polish the machined edge.
Specifications

| | | |
| --- | --- | --- |
| Feeding speed | 29 FPM | 9 meters/min. |
| Panel thickness | 0.315"~1.77" | 8~45 mm |
| Edge thickness | 0.0158"~0.118" | 0.4 ~ 3 mm |
| Min. panel width | 3 ¾" | 95 mm |
| Min. panel length | 6.7" | 170 mm |
| Working table height | 38" | 960 mm |
| Extension support width | 22" | 560 mm |
| Dust collection outlet | Ø 5" x3 | Ø 127 mm x3 |
| Electrical consumption | 10.9 HP | 6.7 KW |
| Electrical | 230/3/60 | 26 Full load amps |
| Machine weight | 2024 lbs | 910 kgs |

MOTOR SPECIFICATIONS

| | |
| --- | --- |
| Feeding motor | 1.5 kW |
| Pre-milling motors (2 pcs) | 1.5 kW each (12000 RPM) |
| Glue spindle motor | 0.25 kW |
| Front/rear trimming motor | 0.22 kW (12000 RPM) |
| Upper trimming motor | 0.37 kW (12000 RPM) |
| Lower trimming motor | 0.37 kW (12000 RPM) |
| Corner rounding motor | 0.37 kW (12000 RPM) |
| Upper buffing motor | 0.12 kW (3000 RPM) |
| Lower buffing motor | 0.12 kW (3000 RPM) |
| Pre-heating | 0.4 kW |
| Glue pot | 1.315 kW |