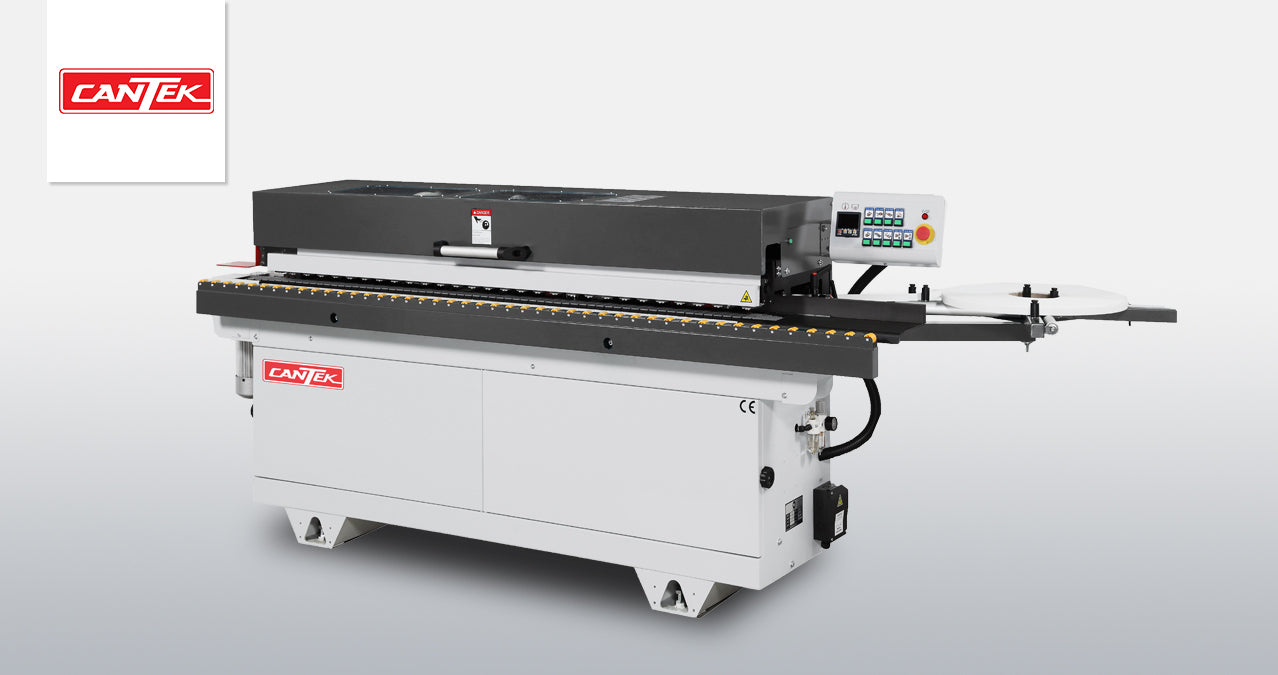 CANTEK | MX350M Automatic Edgebander
Original price
$21,600.00
-
Original price
$21,600.00
Compact edgebander with pre-milling for best-in-class results.
The Cantek MX350M Automatic Edgebander is an entry level edgebander with pre-milling that is the perfect blend of quality and affordability. With fine attention to detail and quality componentry, the MX350M can output high quality edges on cabinet parts and more. The pre-milling diamond cutterheads machine the panel just prior to applying the glue to ensure optimum edge quality prior to applying the edge tape. Additionally, the machine is equipped with end trimming, flush trimming, PVC scraping, and buffing. User friendly controls and adjustments allow for efficient changeovers of edge tape thicknesses between 0.4mm & 3mm.
Why Cantek MX350M Automatic Edgebander?
Compact design makes it the ideal edgebanding solution for small workshops
Pre-milling the panel ensures optimum edge quality prior to edgebanding
Precise adjustments for optimum edge quality
Chain feed system ensures consistent feeding of material for consistent results
Available in 230V 1 or 3 phase
Key Advantages
PLC control system with LED display and keypad
Workpiece is fed by chain
Edge coil support plate: Ø 800 mm (31.5″), for PVC/ABS
Automatic edge feeding with a thickness capacity of 0.4-3 mm; strip material up to 4mm can be hand-fed
Coiled edge bands up to 3 mm in thickness in Hard-PVC/ABS are cut with guillotine shears.
2 kg (2.64 lb) Teflon-coated hot-melt glue pot
Spring loaded pressure unit with (2) pressure rollers (1 chrome & 1 rubber)
Heavy duty pressure beam with extendable work-piece support
Heated infeed fence for pre-heating the panel for optimum glue penetration
Mechanical digital readouts for convenient and quick adjustment to the working units & thickness
Working Units
PRE-MILLING
Pre-milling unit with (2) counter rotating diamond cutterheads for precise edge quality.
END TRIM
8800 RPM dual saw blade (80mm / 3.15″) end trimming unit
TOP & BOTTOM TRIM
10500 RPM top & bottom trimmers with insert knife cutters for radius trimming & bevel trimming
RADIUS SCRAPING
Radius scraper with 2mm radius knives can be easily excluded when not required
BUFFING
2800 RPM top & bottom buffing units to polish the machined edge
Specifications

Feeding speed

23 FPM

7 m/min.

Panel thickness

0.472~1.77″

12~45 mm

Edge thickness

0.0158"~0.118"

0.4 ~ 3 mm

Minimum panel width

3.54″

90mm

Minimum panel length

8 3/4″

220mm

Working table height

33.7″

856mm

Extraction connection

4"

100mm

Air consumption

8.83 CFM

250 liters/min

Premilling spindle speed

9000 RPM

Top & bottom trimmer RPM

10500 RPM

Max. machine dimensions (LxWXH)

126" x 47 ¼" x 47 ¼"

3200 x 1200 x 1200mm

Machine weight

1162 lbs

528 kgs

Shipping dimensions (LxWxH)

111" x 28.4" x 52"

2820 x 720 x 1320mm

Shipping weight

1452 lbs

660 kgs

Electrical requirements

230/1/60 = 35 amps 230/3/60 = 19 amps