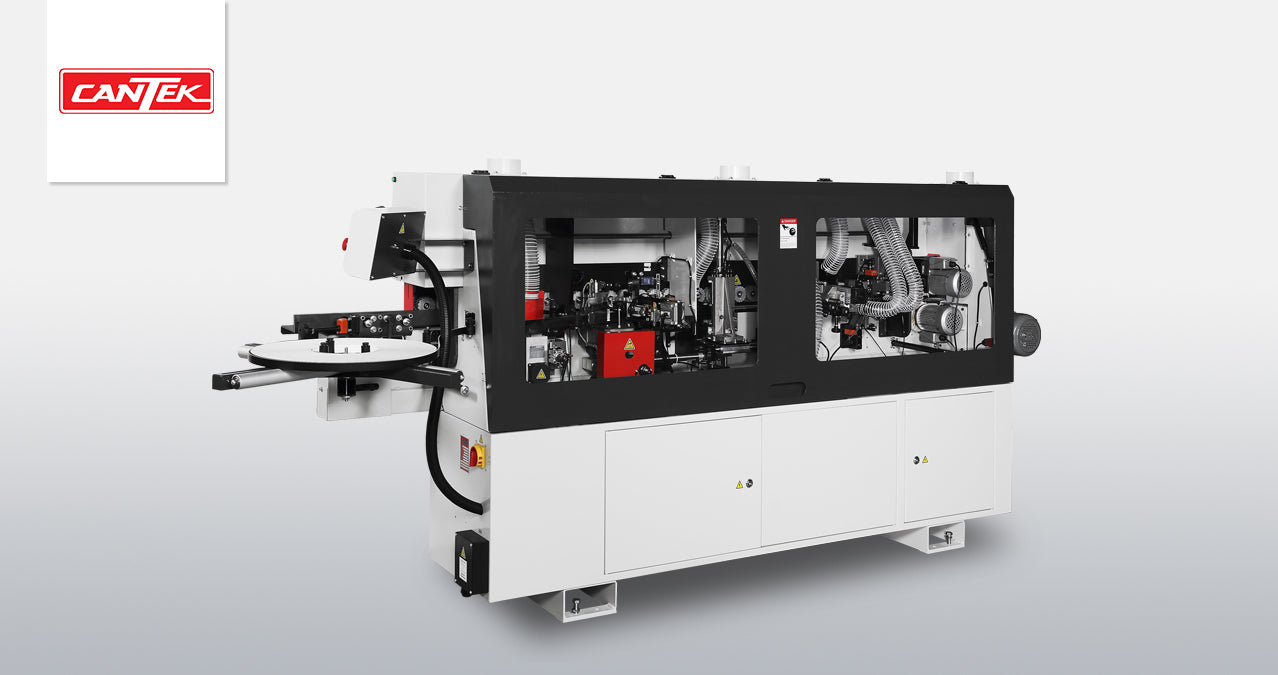 CANTEK | MX350 Automatic Edgebander
Original price
$27,500.00
-
Original price
$27,500.00
High quality edge banding results for cabinet parts and case goods.
The Cantek MX350 Automatic Edgebander is a compact edgebander capable of applying up to 3mm thick edge tape on cabinet parts and more. The counter rotating pre-milling cutters ensure optimum panel edge quality and squareness which result in a less visible glue joint. It comes equipped with high frequency motors on both the end trim and top & bottom trim. In addition it is equipped with PVC radius scraping and buffing units. User friendly controls and adjustments allow for efficient changeovers of edge tape thicknesses between 0.4mm & 3mm. It's compact design and affordable price point make it the ideal edge banding solution for the small cabinet shop who requires pre-milling.
Why Cantek MX350 Automatic Edgebander?
Versatile edgebander capable of applying 0.4mm to 3mm edge tape.
Quick change glue pot allows you to change glue colours in minutes.
Couter rotating diamond premilling cutters produce optimum panel edge for superior edgebanding results
High frequency end trim & flush trim motors produce fine edge finishing results
Multi-function trimmers allows for flush or radius trimming on edge banding
Radius scraping removes any knife marks on radius edges
Buffing unit polishes the edge
Powerful chain feed system ensure work piece stability during application and processing of edge banding resulting in a high quality finish
Key Advantages
Teflon coated Quick Change glue pot can be removed and exchanged in only minutes. Comes with (1) quick change pot and others can be acquired for running different color glues.
Automatic edge feeding with a thickness capacity of 0.4–3 mm; strip material can be hand-fed
Conveyor chain feed system for reliable results
Heated infeed fence for pre-heating the panel for optimum glue penetration
PLC control system with LED display and keypad
Workpiece is fed by chain
Edge coil support plate: Ø 800mm (31 ½"), for PVC/ABS
Spring-loaded pressure unit with (2) pressure rollers
Heavy-duty pressure beam with extendable workpiece support
Working Units
PREMILLING UNIT
High-frequency pre-milling units can remove up to 3mm and is designed to provide an ideal edge for applying edge tape by cleaning up poorly cut panels
(2) counter-rotating diamond cutterheads for optimum results and longevity
END TRIM
High frequency 12000 RPM end trimming unit, with Ø100mm (4") TC-Saw blades
TOP & BOTTOM TRIM
High frequency 12000 RPM top & bottom trimmers with insert knife cutters for radius trimming & bevel trimming
RADIUS SCRAPING
Radius scraper with 2mm radius
BUFFING
3000 RPM top & bottom buffing units to polish the machined edge
Specifications

INCH

METRIC

Feeding speed

29 FPM

9 meters/min.

Panel thickness

0.315"~1.77"

8~45 mm

Max. pre-milling thickness

1.77"

45mm

Edge thickness

0.0158"~0.118"

0.4 ~ 3 mm

Min. panel width

4"

100 mm

Min. panel length

6.7"

170 mm

Working table height

33.5"

850 mm

Dust collection outlet

Ø 5" x 3

Ø 127 mm x 3

Total connected power

10 HP

7.5 kW

Machine dimensions (LxWxH)

147" x 52" x 54"

3700 x 1310 x 1380mm

Machine weight

1452 lbs

660 kgs

Shipping dimensions (LxWxH)

91" x 29" x 54"

2290 x 720 x 1370mm

Shipping weight

1558 lbs

708 kgs

Electrical requirement

230/3/60: 40 amps