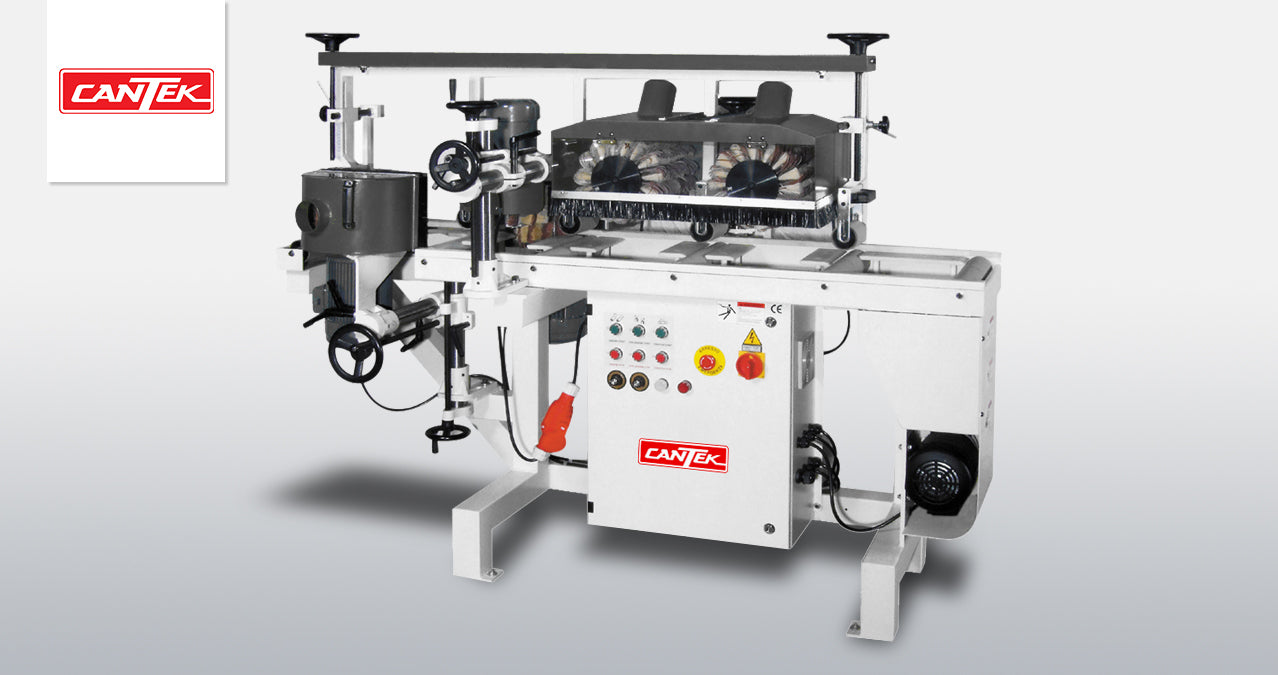 CANTEK | LBS300-5S Lineal Brush Sander: (5) Heads
Original price
$17,000.00
-
Original price
$17,000.00
Eliminate hand sanding with our economical sanding and de-nibbing solution for linear profile.
The Cantek LBS300-5S 3-sided lineal brush sander is designed to help with your everyday linear profile sanding needs. It can be used for white wood sanding and sealer sanding of linear parts such as mouldings, flooring, furniture components, window parts etc. The machine works well as a standalone unit, or as part of the finishing line.
Why Cantek LBS300-5S 3-Sided Lineal Brush Sander?
Designed for sanding linear profiled wood on three sides
Brushing heads consist of abrasive cloth strips and cleaning brushes and are design to access profiled components.
Ideal for sanding and defibbing linear products including:

Moldings, skirting, architrave, flooring
MDF, hardwoods and softwoods
Paint, sealer, and lacquer sanding
Key Advantages
Main Frame is fabricated of heavy steel plate and ribbed to minimize vibration and deflection.
Centralized Control Panel for operator convenience. Clearly Identified & colour coded push buttons simplifying setup & operation
Variable speed adjustment by inverter (VFD's) to all brush sanding heads (200-1200 RPM) for optimum sanding results
(2) Sets of top brushing sanding heads with working height adjusted by handwheel and can be set on an angle for bevel siding & angled mouldings
(1) left side brush sanding head is adjustable up/down, in/out and can be set on an angle
(1) right side brush sanding head which can be adjusted up/down and in and out and can be set on an angle
(1) Additional left side sanding head is adjustable up/down, in/out, and can be set on an angle
Top Press Rolls Working Height adjusted by hand wheel.
Brushing head consists of cleaning brush units and abrasive cloth units
The dovetail pocket design allows for easy abrasive/brush replacement.
Specifications

Max. working width

12″

310mm

Max. working height

4″

100mm

Min. work-pieces length

33″

840mm

Min. work-pieces thickness

3/8″

9.5mm

Feed speed (Variable)

20~56 FPM

6~17 M/min

Speed of sanding wheel

200 ~ 1200 RPM

Top brush head motor

2 x 3/4 HP

2 x .55KW

Left brush head motor

1 x ½ HP

1 x 0.37KW

Right brush head motor

1×1/2 HP

1 x 0.37KW

Left brush head motor

1×1/2 HP

1 x 0.37KW

Conveyor motor

1/4 HP

0.18KW

Moving brush head motor

1/3 HP

0.25KW

Dust ports

4 x 90 mm and 1 x 60 mm

Machine dimension (LxWxH)

73" x 49" x 61"

1840 x 1230 x 1550mm

Packing dimension (LxWxH)

81" x 40" x 64"

2050 x 1010 x 1630mm

Net weight

748 LBS

340 KGS

Gross weight

1034 LBS

470 KGS

Power requirements

230/3/60 = 14 Amps

460/3/60 = 7 Amps