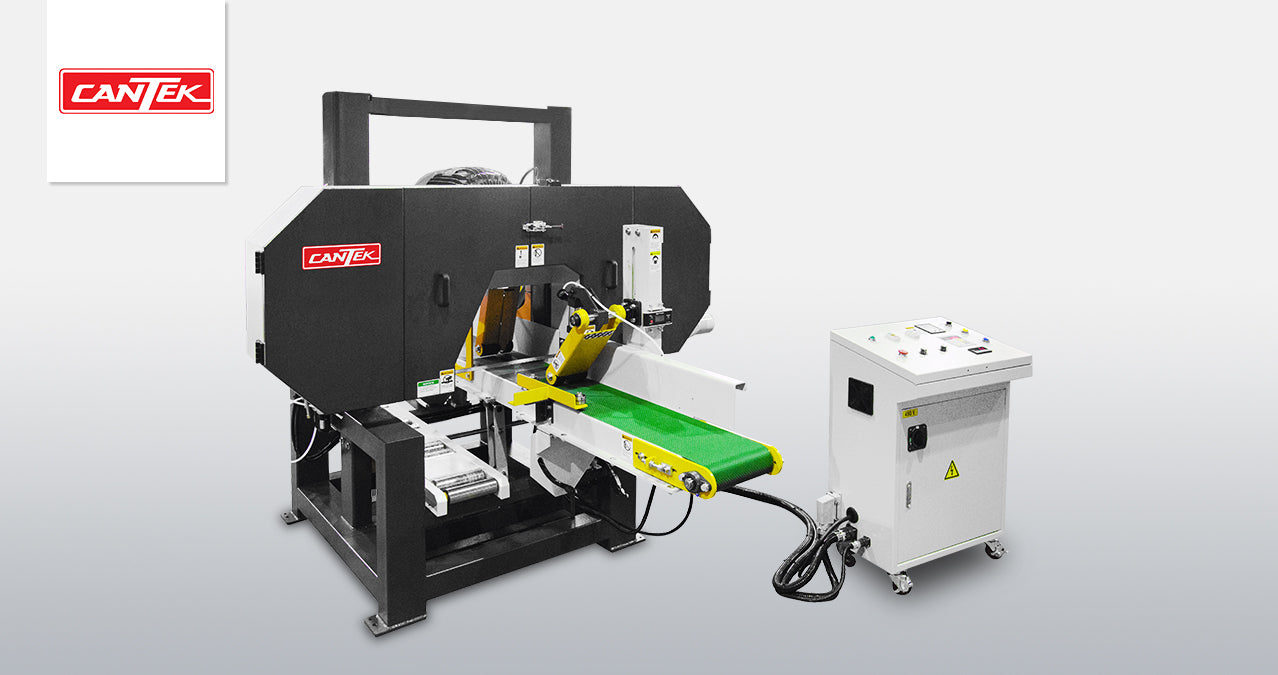 CANTEK | HR300PBX Horizontal Resaw w/ Tilt
Original price
$30,900.00
-
Original price
$30,900.00
High production horizontal resaw with tiling bed for bevel siding and more.
The Cantek HR300PBX tilting bed horizontal band resaw is industrially built for demanding resawing applications. The bed can be tilting from 0-45o making it ideal for bevel siding, moulding blanks, or millwork components. Capable of feeding up to 12" x 12" timber and cutting up to 10" thick. The powerful 30HP saw motor has a variable feed control allowing you to match the cutting speed to your blade & application requirements. The HR300PBX runs a 2" wide blade which runs on solid steel band wheels which are precision machined and balanced for a smooth cutting action. The precision sandwich style blade guides ensure the blade runs true for optimum cutting results. The thickness is conveniently adjusted using a precision motorized digital thickness control.
Why Cantek HR300PBX Tilting Bed Horizontal Band Resaw?
Manually tilting feed belt for straight of bevel cutting from 0 – 45o
Powerful 30HP saw wheel motor with variable speed inverter for precise blade speed setting according to your needs
Heavy-duty tubular steel frame
Motorized thickness (blade height) adjustment with digital position readout
Hydraulic blade tensioning for optimum cutting results
Precision sandwich style saw guide system with moveable left guide to move as close as desired to the material being cut for improved cut accuracy
Air mist blade cooling system
Mobile control panel with digital thickness control, ammeter, feed speed display can be positioned where the operator desires
Key Advantages
Solid steel saw wheels – precision machined and balanced
Pneumatic pressurized top hold down rollers on feed conveyor
Heavy-duty infeed guide-fence on conveyor right including holdover system
Idle roller return conveyor to return parts required additional machining
Reinforced urethane conveyor belt for positive feeding and long life including
Variable feed speed by VFD (frequency inverter)
Y Delta – low amperage starter on the saw motor
Electrical components to UL/CSA standards – 460/3/60 electrics
Smooth infeed system (limit switch & timer 1 to 3 seconds) with timed pressure roller
Specifications

Max. workpiece size

12″ x 12″

305mm x 305mm

Distance from blade to conveyor

0.157″ – 9.8″

4 – 250mm

Conveyor belt size

11.2″ x 215″

285mm x 5470mm

Machine wheel dimensions

28" Dia. x 2" Wide

711 x 50mm

Main motor (Resaw wheels)

30 HP

Conveyor motor

3 HP

Blade elevation motor

¼ HP

Variable feed speeds

0~148 FPM

0~45 m/min

Dust hood diameter

4″ x 2

100mm x 2

Saw blade size (Normal)

180″ x 2″

Feed belts – bed angle

0 ~ 45°

Voltage – Stock machine

460/3/60 = 45 Amps

Machine weight

3960 lbs

1800 kgs

Shipping weight

4400 lbs

2000 kgs

Shipping dimensions

113″ x 90″ x 85″

2850 x 2270 x 2160mm