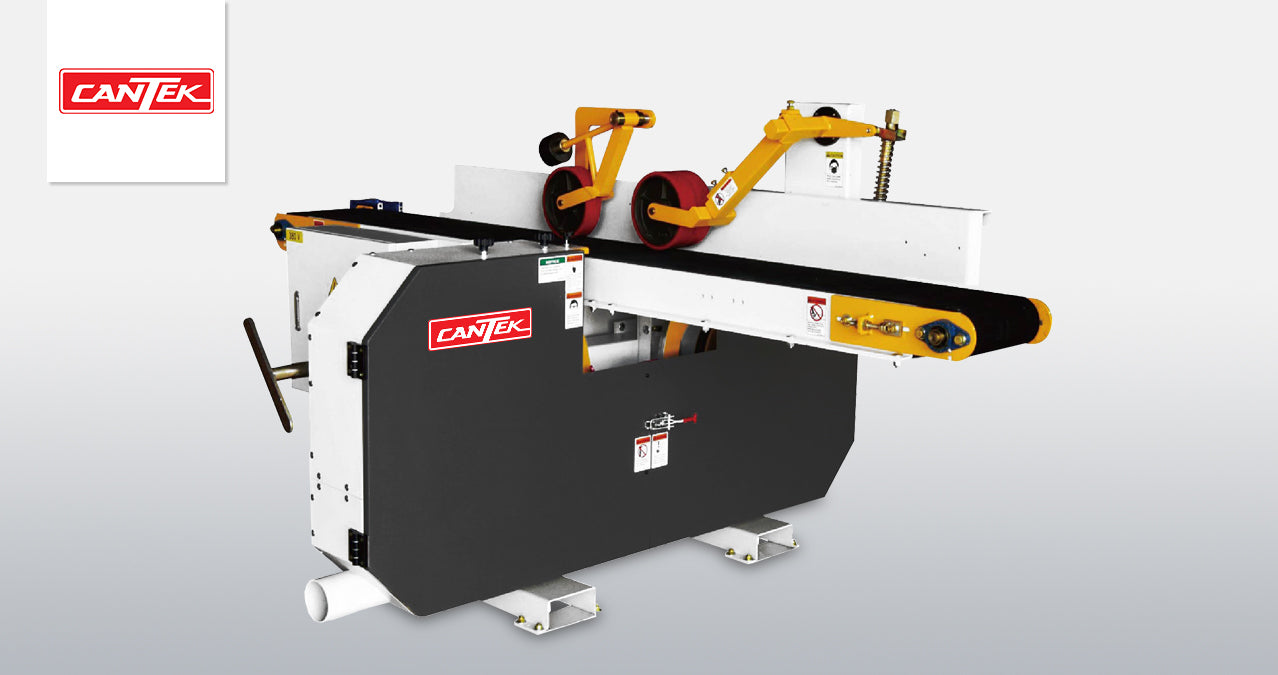 CANTEK | HR12E Horizontal Resaw
Original price
$13,900.00
-
Original price
$13,900.00
Recover valuable lumber from slabs, and produce lap siding, crating, dunnage and more.
The powerful yet economically priced Cantek HR12E horizontal resaw can produce a cut up to 11.8" wide and 4.92" thick. Capable of handling material from 11.8" wide to 9.8" thick. The powerful 20HP motor makes easy work of even hard to cut wood material. The thin kerf 1" wide blade achieves optimum cut quality while maximizing material yield. The user-friendly controls and operation make will allow your resawing operation to get up to speed quickly. It is economically priced for the small to mid-sized operation looking to improve their efficiency and material yield.
Why Cantek HR12E Horizontal Band Resaw?
Powerful 20HP saw motor capable of cutting through virtually any wood species with ease
Solid steel 28" diameter saw wheels capable of running a 1" wide, thin kerf blade for maximum cut accuracy and material yield
Variable feed speed by inverter to ensure optimum cut accuracy and blade life
Simple operation and low price point allowing for the maximum return on your investment
Adjustable sandwich style guide system ensures the blades run true and cut straight
Blade lubrication system ensure the blade runs cool for an optimum blade life
Key Advantages
Single head horizontal configuration with
Variable feed speed by inverter from 16 – 82 FPM
Heavy duty solid steel saw wheels are precision ground and dynamically balanced
Powerful 20HP saw wheel motor
Manual saw wheel elevation
Both saw blade housing elevation screws are linked by a shaft to ensure synchronized movement and precisely level adjustment
Adjustable sandwich style guide system
Manual saw blade tension adjustment by handle
Auto blade lubrication system
(2) spring loaded hold down rollers ensure material is held firmly on the conveyor belt during material resawing
Standard electrics are 230/3/60 to UL/CSA Standards (Other voltages available on request)
Specifications

Max. Input board size (W x T)

11.8" x 9.8"

300 x 250mm

Distance from blade to conveyor table

0.15" – 4.92" (4 – 125mm)

4 – 125mm

Conveyor belt size

11.2" x 215.3"

285 x 5470mm

Diameter of saw wheel

28" (dia) x 1" (W)

711mm (dia) x 24.5mm (W)

Variable feed speed

16 – 82 FPM

 5 – 25 m/min

Saw blade dimensions

168" (L) x 1"

4625 x 24.5mm

Main motor

20 HP

Tolerance

+/- 0.0039″

+/- 0.1mm

Feed motor

2 HP

Electrical requirements

230/3/60 = 60.8 Full Load Amps

Dust Hood

4" x 4 pcs.

100mm x 4 pcs

Machine with Conveyor weight

2464 lbs

1120 kgs

Machine shipping dimensions

86" x 45" x 45"

2180 x 1140 x 1140mm

Machine shipping weight

1980 lbs

900 kgs

Conveyor shipping dimensions

113" x 22" x 28"

2870 x 560 x 700mm

Conveyor shipping weight

550 lbs

250 kgs