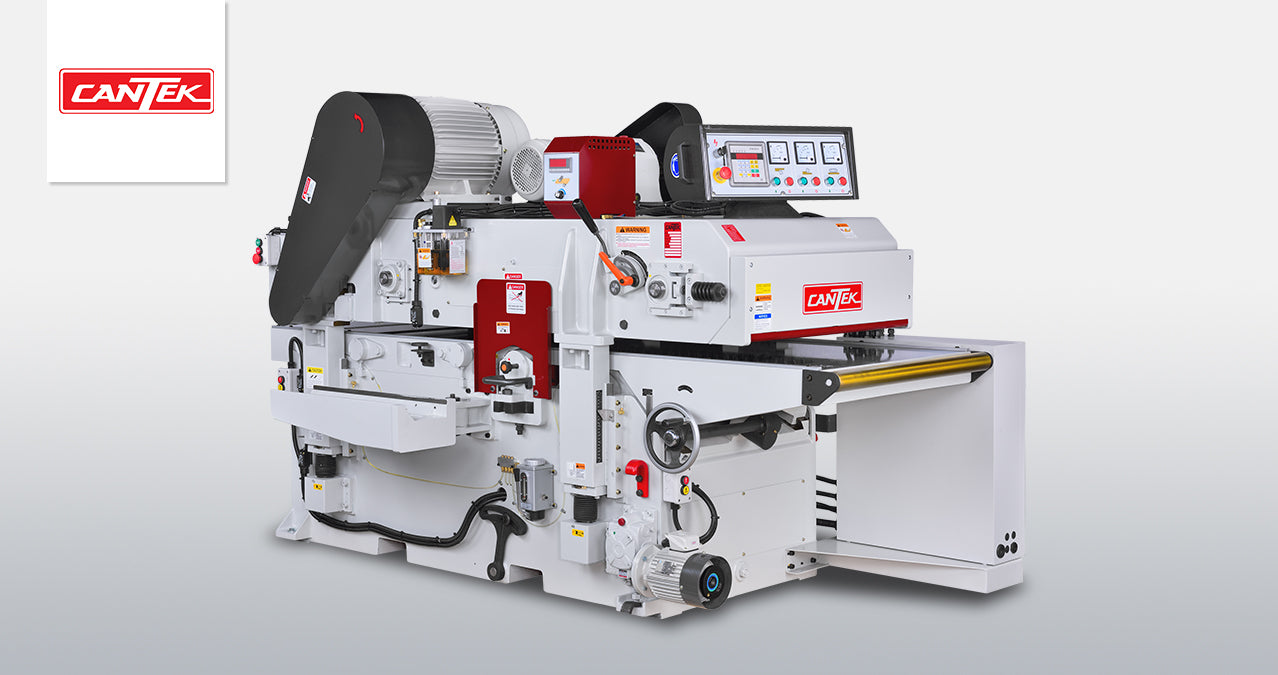 CANTEK | GT635ARD-8 25" X 8" Double Surfacer
Original price
$36,200.00
-
Original price
$36,200.00
Plane your material efficiently in a single pass.
The Cantek GT635ARD 25″ double surface planer has a robust cast-iron body for industrial planing day in and day out. The spiral insert knife cutterheads produce a smooth planed finish with maximum stock removal. The material is passed over the bottom head with a spring-loaded pin feed system allowing it to act like a jointer to flatten the board prior to being planed to an accurate thickness with the top head.
Why Cantek GT635ARD 25″ Double Surface Planer?
Spring loaded conveyor pin system ensures material is passed over the bottom cutterhead to resulting in a flat and uniform board prior to planing to thickness on the top head
Spiral insert knife cutterheads with two-sided solid carbide knives produce a smooth finish with increased stock removal capacity and extremely quiet operation
Heavy-duty cast-iron machine body and table for vibration free cutting
Digital electronic thickness adjustment in INCH and MM (Inch = 0.001" / mm = 0.01mm resolution) for precise thickness control
Key Advantages
25″ x 8″ capacity as standard with optional 16″, 20″, 24″ thickness capacity
Cutterheads are spiral insert type with six (6) rows of carbide inserts
(2) driven and (1) idle bed roll for superior feeding of even difficult material
Swiveling control panel for more ergonomic access to machine controls
Inverter variable speed control with feed speeds from 26 to 80 FPM
Easy to access external handwheel adjustment of infeed bed
Hard chromed worktable for high wear resistance
Auto lubrication to conveyor chain, central lubrication for dovetail elevation guideways
Section chipbreaker and sectional feed roller before top cutterhead
Rubber outfeed top roller to prevent chip marking
Over thickness safety shut-off bar across infeed.
Ammeter for each motor on control panel to monitor motor load
Specifications

Maximum working width

25″

Maximum working thickness

8″ (16″, 20″, 24″ optional, please inquire)

Minimum working thickness

0.315″

Minimum workpiece length

12.2″

Bottom head motor

20 HP

Top planing head motor

25 HP

Feed motor

5 HP

Table elevation motor

1/2 HP

Cutterhead diameter

4″

Knife dimensions

30mm x 12mm x 1.5mm w/ bevels (96 pcs per head)

Cutterhead speed

5400 RPM

Feed speed (variable)

26-80 FPM

Dust ports

2 @ 6"

Table dimensions

27″ x 103″ (32″ from the floor)

Machine voltage

460/3/60 = 69.7 amps

575/3/60 = 56 amps

Machine dimensions (LxWxH)

105″ x 45.1″ x 67.7″

Net weight

6600 lbs

Packaging dimensions

109″ x 49″ x 74″

Gross weight

7700 lbs