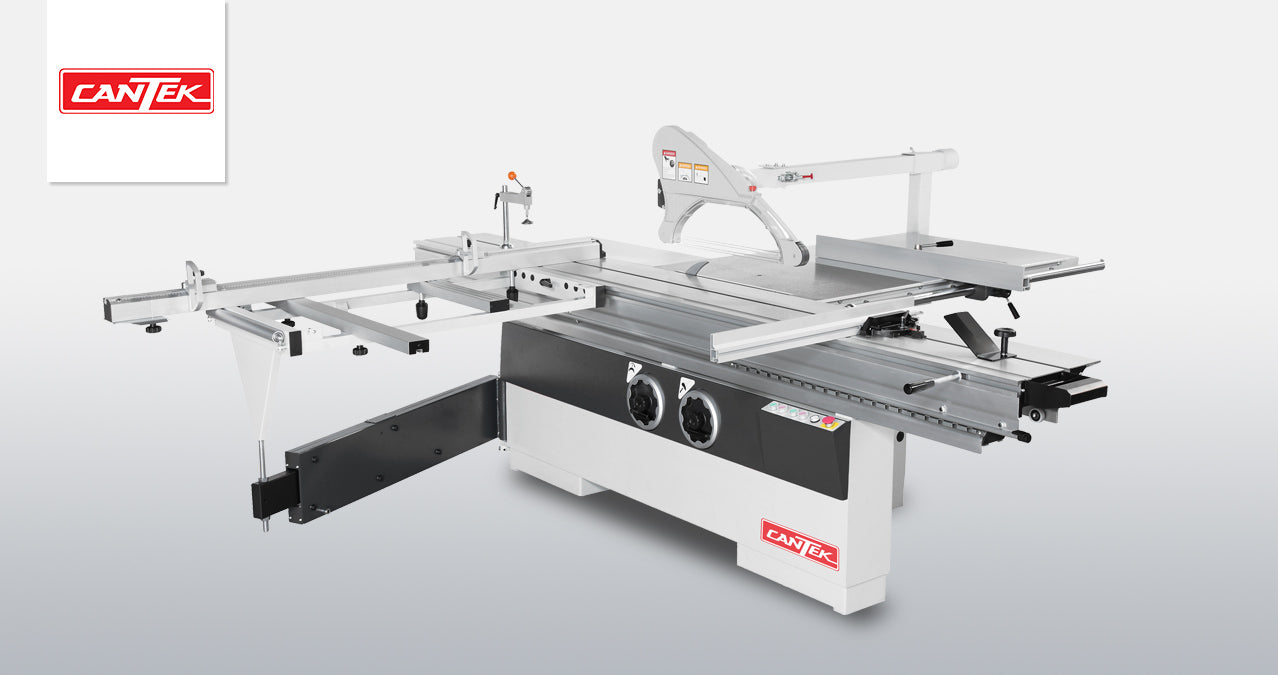 CANTEK | D405M-8 8' Sliding Table Saw
Original price
$12,100.00
-
Original price
$12,100.00
Industrial manually operated sliding table saw for the space conscious shop.
The Cantek D405M-8 8′ Sliding Table Saw is the ideal panel cutting solution for kitchen cabinet shops, millwork companies, and furniture shops who need a precision saw but have limited floorspace. The D405M-8 combines a heavy-duty construction with cast iron main table, cast iron saw carriage, and precision sliding table resulting in precise panel sizing with high accuracy and repeatability time after time. The double roller sliding table runs effortlessly and smoothly and the crosscut miter fence can be easily and accurately adjusted for optimum results
Why Cantek D405M-8 8′ Sliding Table Saw?
Precision anodized aluminum sliding table with prismatic rollers running on precision ground steel guides for smooth and effortless table movement
Crosscut miter fence with (2) flip stops for accurate panel sizing and angular cuts
Manual blade rise, fall, and tilting with convenient pointer for blade angle display
Heavy duty rip fence runs on round cylindrical solid steel guide with manual adjustment and micro adjustment knob
Overarm safety guard with quick change system for changing between straight and bevel cutting guards
Key Advantages
Powerful 7 ½ HP main motor for 3 Phase or 5 HP main motor for Single Phase, with separate 1 HP scoring motor
Manual saw blade rise/fall & tilting, conveniently located on the operator side of the machine
Heavy-duty outrigger for strong support of workpiece during cutting operations
Dual inch and metric scales for both rip and crosscut fences
Manual lateral and vertical scoring adjustment by externally mounted handles for operator convenience
Eccentric hold down clamp, table return handle, and wedge for solid wood ripping included
Overhead saw blade guard with built in dust port included (CE-type)
Specifications

 

INCH

METRIC

Sliding table dimension

102.4″ x 14.9″

2600 x 378 mm

Cast iron table

21.6″ x 35.3″

548 x 896 mm

Extension table (rear)

37.5″ x 35.3″

952 x 896 mm

Extension table (front)

12.6″ x 32.7″

320x 830 mm

Table size

59″ x 68″

1500 x 1726 mm

Round rail

1.97″

50mm

Maximum main saw blade dia.

16″

400 mm (16″)

Main saw bore

 

30mm

Max. cutting height at 90° (355mm)

4.13″

105 mm

Max. cutting height at 45° (355mm)

2.76″

70mm

Main motor power

7.5 HP (3ph) / 5HP (1ph)

5.5 kW (3ph) /3.7 kW (1ph)

Main blade speed (3)

3000/4000/5000 RPM

Scoring saw blade

120 mm

Scoring saw blade bore

20mm

Scoring blade motor power

1 HP

0.75 kW

Scoring blade speed

8000 RPM

Cutting width

51.2″

1300 mm

Cutting width adjustment

Manual

Main saw blade tilting adjustment

Manual (0°~45°)

Main saw height adjustment

Manual

Scoring saw adjustment

Manual

Dust ports (machine / guard)

4.72″ / 2.5″

120mm / 64 mm

Machine total weight

1612 lbs.

733 kgs

Machine shipping details

1428 lbs (83″x46″x44″)

649 kgs (2110x1150x1120mm)

Sliding table shipping details

363 lbs (137″x20″x15″)

165 kgs (2880x490x370mm)

Overhead guard shipping details

80 lbs (40″x36″x6″)

36 kgs (1000x900x140mm)

Electrics

230/3/60 = 26.2 Full Load

Electrics

230/1/60 = 36 Full Load Amps