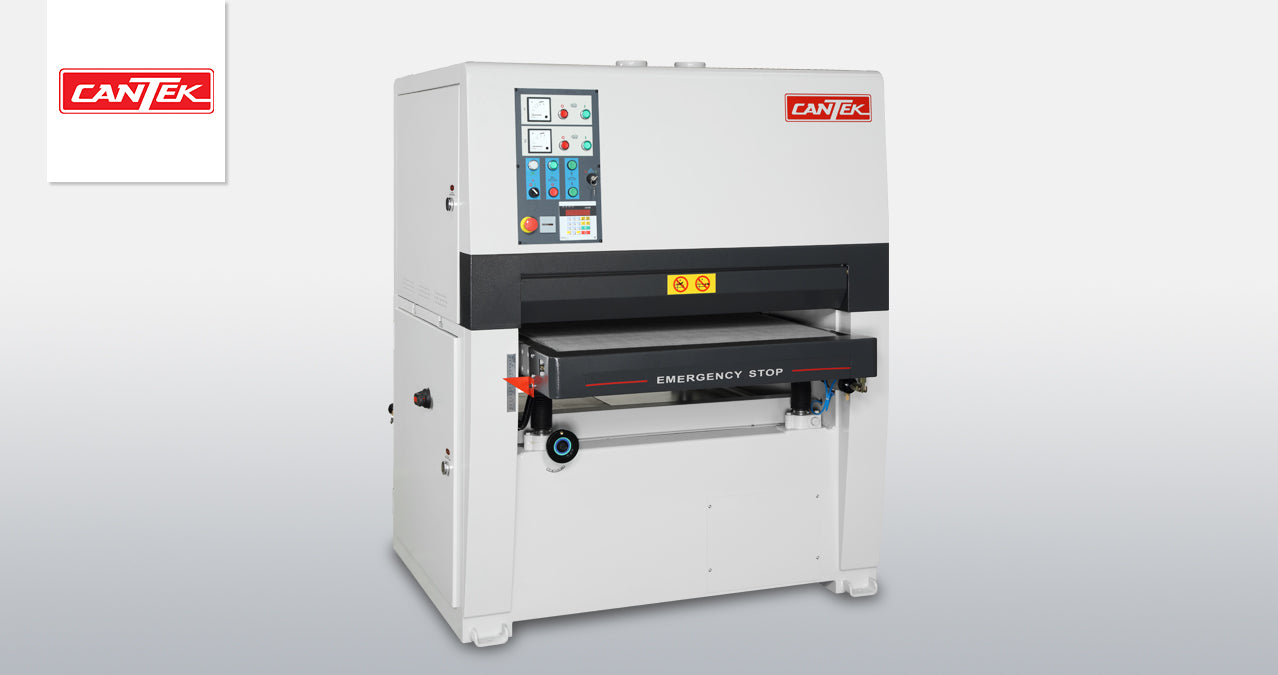 CANTEK | C372 37" Two Head Wide Belt Sander (60" Belt)
Original price
$27,300.00
-
Original price
$27,300.00
Accomplish your tasks without worrying about the performance of your sander.
The Cantek C372 37″ Two Head Widebelt Sander is perfect for any small to mid-sized shops looking to achieve outstanding results. Its robust construction is the best in its class and provides superior sanding results. The flexibility with quick change abrasive belts, allow for more applications in a shorter time frame, helping to assist and meet deadlines. The C372 has a relatively small footprint providing greater access for smaller shops to accomplish bigger results. Equipped with motorized thickness adjustment with digital input control with settings to 0.001" / 0.01mm for precise table setting without compromise!
Why Cantek C372 37″ Two Head Widebelt Sander?
Dual sanding heads increases efficiency by reducing the number of passes
Rubber contact drum for calibration sanding
Combination sanding unit with 5" rubber contact drum and 2" wide adjustable sanding platen for a wide range of sanding applications
Adjustable platen produces superior sanding results with finer sandpaper grits
Solid cast iron sanding heads and mounting base for superior vibration damping resulting in an optimum sanding result
Accurate digital thickness control with both Inch & Metric settings allows operator to key in the desired thickness and table will automatically move into position.
Small footprint
Key Advantages
Two sanding heads

First Head: Rubber contact drum with 7" diameter drum
Second Head: Combination head with 5" diameter drum and 2" wide platen

Electronic belt tracking for optimum belt life and sanding results
Ammeter for load monitoring to ensure the proper amount of material is being removed according to the selected grit.
Disc brake on main motor allows for faster belt changes
Pneumatic belt tensioning with quick release outboard support to facilitate fast belt changes.
Double infeed and outfeed pressure rolls for superior part hold down
Four table raising jack screws
Material over-height limit switch
Hour meter records the actual running time of the machine which can be used to provide timely maintenance for the machine
Interlocks located on all access doors.
Specifications

| | | |
| --- | --- | --- |
|   | Inch | Metric |
| Abrasive belt size | 37" X 60" | 940  X 1524 mm |
| Main motor (First Head) | 20 HP | 20 HP |
| Main motor (Second Head) | 15 HP | 15 HP |
| Feed motor | 2HP | 2 HP |
| Table rise/fall motor | ½ HP | ½ HP |
| Maximum width stock | 36" | 914 mm |
| Minimum part length | 13" | 330 mm |
| Maximum thickness opening | 5" | 127 mm |
| Feed speed: variable | 13 to 52 FPM | 13 to 52 FPM |
| Passline height | 33"- 38" | 838 – 965 mm |
| Infeed table | 11-1/2" | 279- 12.7 mm |
| Dust outlet | 4 @ 4" | 4 @ 100 mm |
| Compressed air usage | 2 CFM @ 90 PSI | 2 CFM @ 90 PSI |
| New weight | 3300 lbs | 3300 lbs |
| Machine dimensions | 74" X 64" X 70" | 1879 X 1625 X 1778 mm |
| Shipping weight | 3960 lbs | 1796 kgs |
| Shipping dimensions | 78" X 67" X 76" | 1981 X 1701 X 1930 mm |