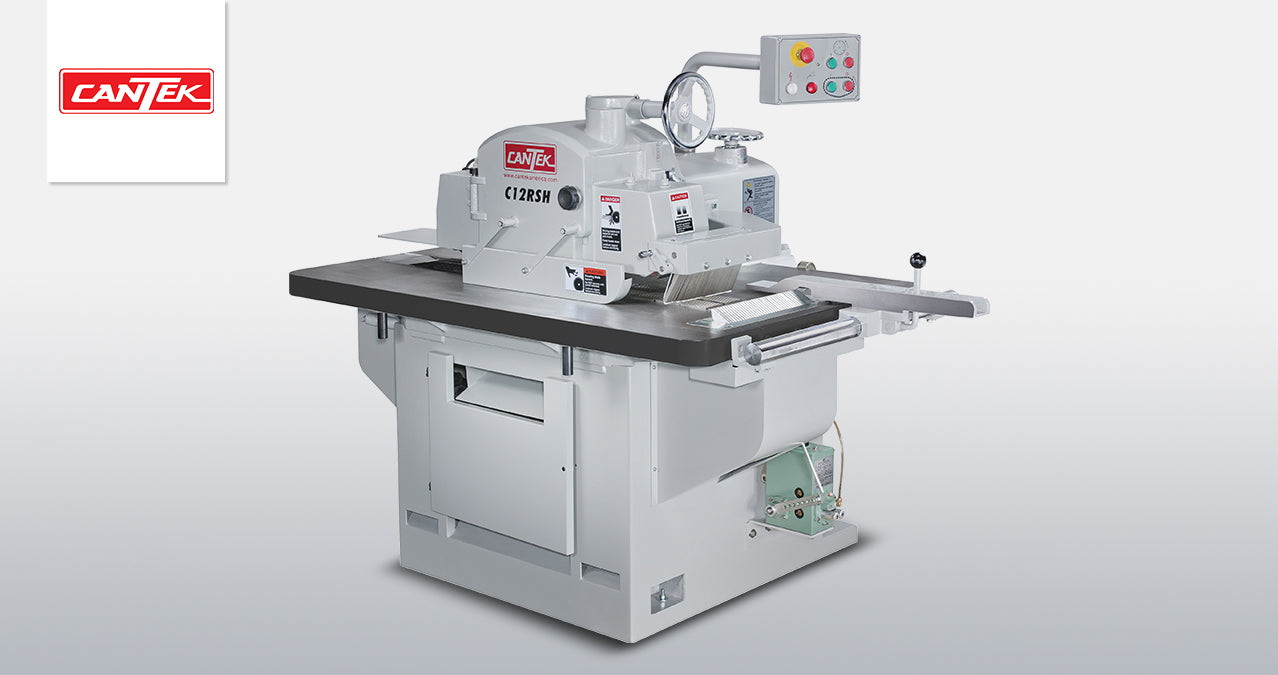 CANTEK | C12RSH 12" Glue Line Ripsaw (10' guarantee glue line)
Original price
$19,400.00
-
Original price
$19,400.00
Save time and speed up production in your glue-up and ripping operations.
The Cantek C12RSH Straight Line Ripsaw is a single-blade ripsaw geared towards the shop looking to increase efficiency in their ripping operations but can not justify a multi-blade ripsaw. With its precision cast iron chain and track assembly, and extended pressure section, the C12RSH can produce a glue joint finish ready for panel glue-up right out of the saw.
Why Cantek C12RSH Straight Line Ripsaw?
Produces a guaranteed glue joint finish to 10′, which eliminates the need to joint the material after ripping
Precision straight line feeding for parallel and accurate rip cuts
Eight hold down rollers over six rows ensure material is firmly held during cutting operations for a longer period resulting in a straighter, more precise cut.
Maintenance-free chain track with the use of a reliable mechanical lubrication system.
Key Advantages
Cast iron saw assembly, column, and table with superior vibration damping properties for optimum cutting results while ensuring long bearing and machine life.
Rigid machine body consists of a thick welded steel frame.
FC35 cast iron chain track with double-V design ensures precision straight-line ripping with a long wear life.
Precision Built Saw Arbor constructed of nickel-chrome steel, large diameter, accurately ground and dynamically balanced.
Arbor runs in precision angular contact type ball bearings (eliminates any radial run-out & axial thrust) – V Belt driven from below.
Mechanical operation Chain Oiler provides consistent lubrication to the chain track and automatically adjusts to your feed speed.
When oil runs low, a warning light will come on, and when it gets too low, the machine track stops running to avoid damage to the track.
Cast iron rip fence is mounted to a large diameter round guide rail with a quick-locking lever for effortless and accurate adjustment.
3 sets of anti-kickback fingers. 2 top and 1 set in the table for added operator safety.
Soft start – Star Delta starter reduces the amp draw on startup.
Optional laser light to project the cutting line to achieve maximum material yield.
Specifications

| | |
| --- | --- |
| Saw arbor diameter | 1″ |
| Saw blade diameter | 10 – 12″ |
| Saw arbor speed | 4500 rpm |
| Feed Speeds – variable | 50 to 120 FPM |
| Maximum workpiece thickness | 3.34″ (12″ blade) |
| Minimum workpiece length | 8″ |
| Glue line guarantee | 10' (+/- 0.0098" or 0.25mm) |
| Distance between saw and column | 18″ |
| Arbor motor | 15 HP |
| Feed motor | 1 HP |
| Electrical | 46 amps (230V); 23 amps (460V) |
| Table size | 39″ x 57″ |
| Table height | 31-7/8″ |
| Dust port size | 4″ |
| Net weight | 2,090 lbs |
| Machine dimensions | 68" x 46" x 62" |
| Shipping weight | 2,530 Lbs |
| Shipping dimensions | 65″ x 55″ x 60″ |