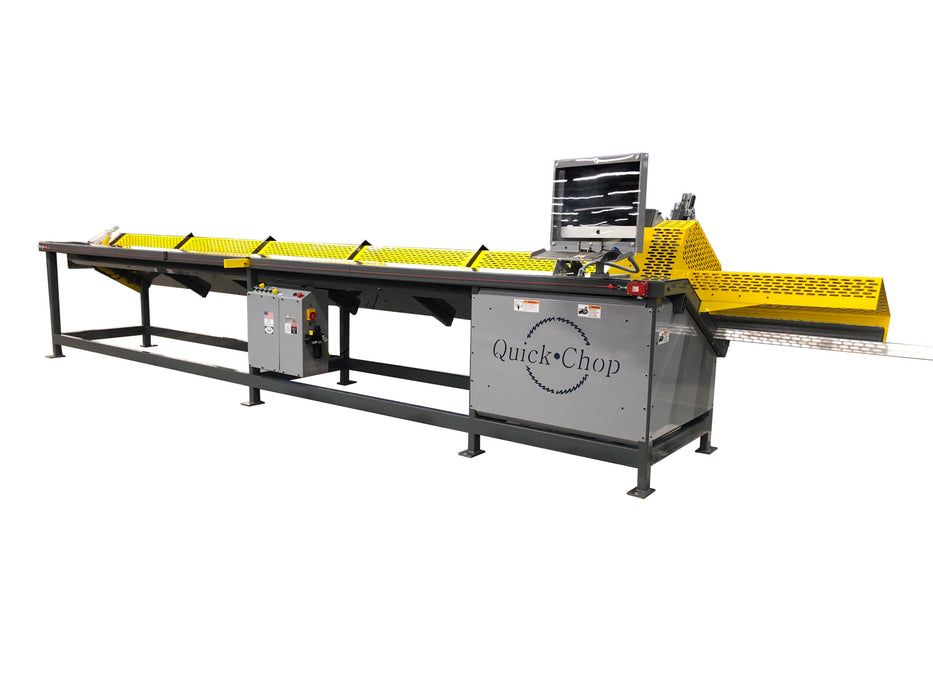 Cameron Automation | #611A- Quick Chop Plus
Original price
$50,000.00
-
Original price
$50,000.00
High Speed, Push Feed, Optimizing Chop System designed for the Rip First AND Chop First Factory
Redesigned from the ground up in 2018, the Quick Chop Plus is a complete and affordable push feed chop saw optimization system. Based off of the time tested #37A- Quick Chop Design and the Powerful "Quick Chop" software platform, The Quick Chop Plus offers many of the same features at more than double the production. The Quick Chop Plus can cut around 30 lineal ft. of material a minute. This totals 13,000+ Lineal Feet per (8) Hour shift.
Like our other Cameron Platforms, the Cameron "Quick Chop" Program is robust and powerful. The Quick Chop's software runs on a full featured computer – not just a keypad and a PLC. Because the Quick Chop is designed with the custom shop in mind, the software is sophisticated yet easy to use and easy to understand.
The Quick Chop Will:
Accurately cut boards to length from cut lists plus or minus .030″. For even closer tolerances the Quick Chop chop saw optimization system offers the option of a lineal encoder for accuracy of +/- .010″.
Allow operator to use familiar crayon based defect marking and grading.
Increase yield of cut stock and prioritize chop lengths.
Make accurate and smooth cuts with a mechanical chop saw.
Keep accurate tallies of production and yield.
Increase operator safety.
Network with office computers to import cut lists from spread sheets and review reports.
Print lengths and references on parts with an optional inkjet printer.
Wirelessly network with other Quick Chops and the Quick Rip to collectively work on jobs and increase yield.
How it works
Operation of the machine is as follows:
Using a luminescent crayon, the operator marks a board for defects and places the board on the stops. These crayon marks will not appear on the finished material once its been processed.
With the push of a button the chop saw operator can select which cutting bill to use on the board. Unlike the slow 'paddle' measuring/defecting technique, the operator does not have to walk from one end of the board to the other to determine the board's length.
The board is then released, and it drops down to the fence, inside of the Safety Cage. The pusher scans the board for length and the location of the crayon marks as it travels to the end of the board.
The board is then fed into the saw and cut at the optimum positions based on the data entered into the cut list.
As the board is being cut, the operator can mark the next board, place it on the stops and select the next cutting bill, so that it can be scanned immediately the instant the previous board is finished. There is very little wasted time in-between boards, maximizing production of the machine.
Customers who will benefit from the Quick Chop:
Small to medium sized shops.
Those who currently have operators using manually operated chop saws.
Manufacturers of high quality wood products.
Door and Face Frame Manufacturers
Stair and Tread Manufacturers
Furniture Component Manufacturers
Advantages
Advantages over Hand Chopping:
Increases yield of cut stock
Higher production
Tallies Material Automatically
Better consistency in Chop Lengths
Advantages over Other Systems:
Simple and quick Luminescence crayon marking is used for defects or grading
Unique design enables operator to be marking two or more boards ahead of the board being chopped. This equals higher productivity.
Higher yield through grade sharing
Accuracy within +/- 0.010
Quick Chop uses a full featured computer system, not just a keypad
Pneumatic saw actuator is fast and delivers a smooth operation cycle for accurate and quality cuts.
Welded one-piece steel frame allows the Quick Chop to ship set up. Installs in one afternoon
Specifications
Power Requirements (3 Phase Required)

220V = 30 Amps
480V = 15 Amps

Air Requirements

1/4″ Airline = 5 SCFM @ 90 psi

Saw Blade Cutting Capacities

14″ Diameter / 1″ Bore

4/4 Material = 8.5″ Wide
8/4 Material = 7″ Wide

18″ Diameter / 1″ Bore

4/4 Material = 13″ Wide
16/4 Material = 10″ Wide

Saw Arbor Motor
Max Material Length Capacity

Offered in 12, 16, 20, and 24 ft Length Options

Dust Collection

1 x 4″ Dust Port
400 CFM Required