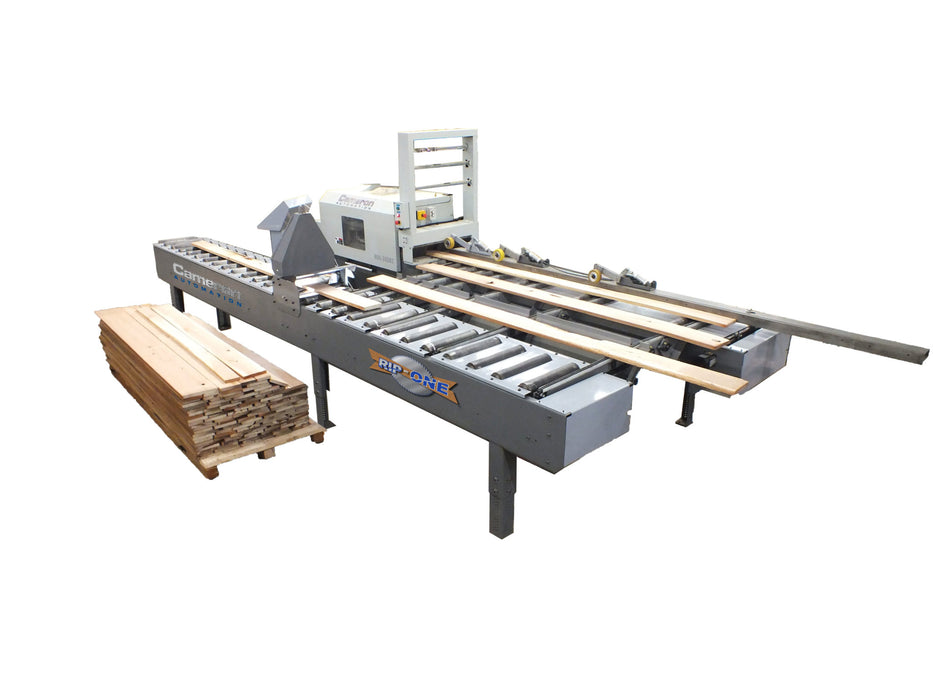 Cameron Automation | #412A- Rip One System
Original price
$50,000.00
-
Original price
$50,000.00
A Complete Lumber Scanning, Optimization, and Gang Ripping Work Cell designed for Medium and Small Shops
Scan and rip up to (10) boards per minute. The Rip One will increase your yield and make better decisions with each and every board
The Cameron Automation Rip-One is a complete lumber scanning, optimization, and gang ripping work cell designed for smaller shops. The Rip-One uses high resolution scanning technology to view both sides of a board to capture board dimensions and defects. The high resolution images are used to optimize each and every board going through the system. It also increases productivity dramatically by transforming gang ripping into a single person operation.
Cameron Saw Models
#413A – 12″ Wide (2) Moving Blade, Multiple Fixed Blade Saw
#413B – 18″ Wide (3) Moving Blade, Multiple Fixed Blade HD Rip Saw
#413C – 24″ Wide (4) Moving Blade, Multiple Fixed Blade HD Rip Saw
List price for the entire system for ripping 12′ lumber, including a movable blade Rip Saw is tens of thousands or potentially hundreds of thousands of dollars less than other companies scanners alone. Optimization systems that don't incorporate scanners typically read the width of the board in one or more places and at best work with only a two dimensional outer profile of the board. They are incapable of detecting wane or defects in the board. These optimizers can give a "best guess" ripping solution based on the board's profile, but an operator is still required to finalize the solution based on the actual characteristics of the board. The Rip-One on the other hand brings the power of lumber scanning to the smaller shop, and until now, only larger shops could afford the advantages that could be gained by scanning lumber before ripping.
How it Works:
Material reaches the infeed rollers manually or by conveyor.
The Cameron software figures out how to rip the board based on yield, board value, or required amounts.
Boards are kept in queue at the first and second stops until the machine is ready to process them.
Boards are released to the fence, which is positioned and skewed to feed the board at the right spot on the arbor. The moving blades are moved into place to create the proper rip sizes.
The ripped board ends up right beside the operator. This makes it easy for the same operator to stack the finished material. It also gives him instant feedback on how the system is performing.
Simple to Use:
High resolution scanning at a reasonable price
Multiple scanning profiles can be saved and re-used depending on the material.
Full control over scanning parameters to meet your needs
Not time spent trying to rip around knots and wane, and more time producing material
Communicates with moving blade saws to position blades automatically.
Can be run as a one-man, two-man, or fully automated operation.
Simple to operate with no need for specially trained operators
Software can choose from different cut-bills based on board length.
Software is built on the time-tested Opti-Rip platform
Extremely compact design
Advantages
Why Cameron Scanning:
Cameron scanning offers an affordable scanning solution while other systems cost 2-3 times more.
The system identifies defects by color and profile. Parameters for defect detection can be modified by the user. Multiple parameter profiles can be saved for different wood species.
Optimization software uses defect information to maximize usable product.
The scanners use long lasting, inexpensive LED lighting.
The entire system is built with off-the-shelf computers and hardware. This makes the system inexpensive to maintain and upgrade.
There is no need for specialized operator training to run a Rip-One. Simply create a profile that rips the way you want it to and save! All the operator does is load and unload!
Software is based on the Opti-Rip optimization platform that has been continually refined since the early '90's.
The system can be efficiently run as a one-man or two-man operation, depending on production requirements.
Cameron Automation has over 20 years of optimizing experience. Using this, we have developed a scanning system that is easy to run, maintain, and rips the way YOU want it to!
Benefits of a Cameron Rip System:
Award winning support.
Software for both the Infeed and Gang Saw is written in house in Poughkeepsie, NY
Industry leading features with the Auto-Skew and Over/Under design.
Powerful Software to help improve your business and make you more profitable.
Significant Yield Increases that go directly to the Bottom Line by decreasing Lumber Bills and Improving Productivity
Specifications
Cameron Rip One Infeed
Lumber Capacities

Standard Machine: 5 Ft. Minimum / 16 Ft. Maximum
Short Stock Machine: 28″ Minimum / 16 Ft. Maximum

Thickness Tolerances

12″ Saw Blades: 2.5″
14″ Saw Blades: 3.75″

Maximum Width (Incoming Material)