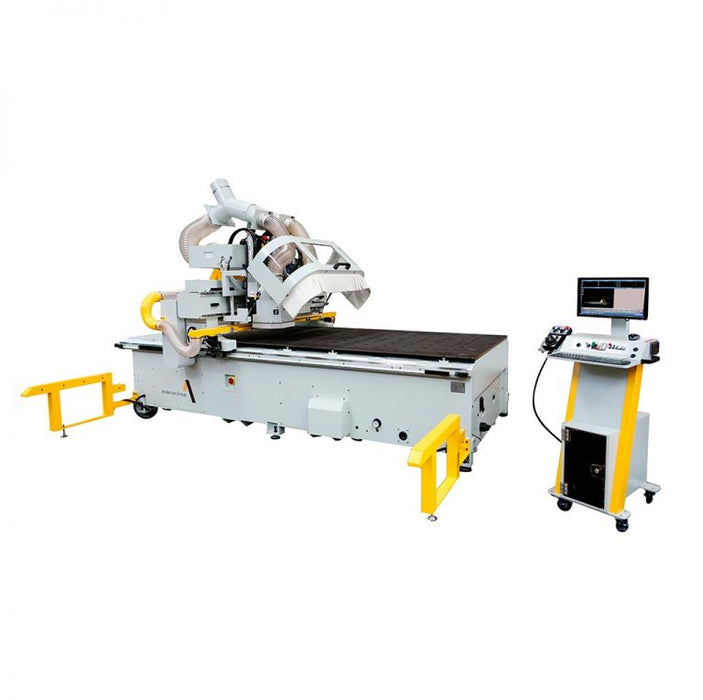 Anderson | Selexx Plus
Original price
$50,000.00
-
Original price
$50,000.00
SELEXX Series
About the SELEXX-Series
ANDI Routers are proven in the high production manufacturing industry. They are used in all facets of industry through the world, including Aerospace Technology, Woodworking Production, Plastics and Composite Materials Processing. Due to the solid construction, high quality components, machine characteristics the ANDI Selexx series offers the best price and quality ratio of any cost efficient CNC router on the market today. CNC Routers offers  a first class CNC Machining centre. Selexx has been developed specifically to satisfy the client demanding the utmost in technical quality and reliability in a CNC Machining Centre within a cost effective investment.
Automatic Unloading Pusher
Optional Pusher increases the machine productivity by up to 90%. At the completion of the machining cycle the pusher transports the completed nest of panels out of the working area allowing immediate loading of the next machining cycle.
Specifications

Basic configuration
SELEXX 48 TC
SELEXX 510 TC
SELEXX 512 TC
SELEXX 48 TC+D
SELEXX 510 TC+D
SELEXX 512 TC+D
No. of vacuum zones
2
3
4
2
3
4
Table Size
98.4" x 49"
[2500 x 1250 mm]
122" x 61"
[3100 x 1550 mm]
147" x 61"
[3750 x 1550 mm]
98.4" x 49"
[2500 x 1250 mm]
122" x 61"
[3100 x 1550 mm]
147" x 61"
[3750 x 1550 mm]
X-Axis Stroke
103.5" [2630 mm]
125" [3180 mm]
152" [3880mm]
103.5" [2630 mm]
125" [3180 mm]
152" [3880mm]
Y-Axis Stroke
67.7" [1720 mm]
72" [1835 mm]
72" [1835 mm]
67.7" [1720 mm]
72" [1835 mm]
72" [1835 mm]
Z-Axis Stroke
9.84" [250 mm]
9.84" [250 mm]
9.84" [250 mm]
9.84" [250 mm]
9.84" [250 mm]
9.84" [250 mm]
Rapid Travel Speed in X
3,149"/min [80 m/min]
3,149"/min [80 m/min]
3,149"/min [80 m/min]
3,149"/min [80 m/min]
3,149"/min [80 m/min]
3,149"/min [80 m/min]
Rapid Travel Speed in Y
2,362"/min [60 m/min]
2,362"/min [60 m/min]
2,362"/min [60 m/min]
2,362"/min [60 m/min]
2,362"/min [60 m/min]
2,362"/min [60 m/min]
Rapid Travel Speed in Z
787"/min [20 m/min]
787"/min [20 m/min]
787"/min [20 m/min]
787"/min [20 m/min]
787"/min [20 m/min]
787"/min [20 m/min]
Spindle Power
7.5 kw x 1 (10hp)
7.5 kw x 1 (10hp)
7.5 kw x1 (10 hp)
7.5 kw x 1 (10hp)
7.5 kw x 1 (10hp)
7.5 kw x 1 (10hp)
Spindle RPM
1.000~24.000 rpm
1.000~24.000 rpm
1.000~24.000 rpm
1.000~24.000 rpm
1.000~24.000 rpm
1.000~24.000 rpm
Spindle Taper
HSK63F air cooled
HSK63F air cooled
HSK63F air cooled
HSK63F air cooled
HSK63F air cooled
HSK63F air cooled
Ride along Tool Changer
8 / 10
8 / 10
8 / 10
8 / 10
8 / 10
8 / 10
Boring Block
optional
optional
optional
5+5 or 10+7
5+5 or 10+7
5+5 or 10+7
Vacuum Pump
10/25/40 HP
10/25/40 HP
10/25/40 HP
10/25/40 HP
10/25/40 HP
10/25/40 HP
Drill Rotation Speed
optional
optional
optional
4.800 rpm
4.800 rpm
4.800 rpm
NC Controller
ANDI-FANUC Oi
ANDI-FANUC Oi
ANDI-FANUC Oi
ANDI-FANUC Oi
ANDI-FANUC Oi
ANDI-FANUC Oi
Floor area of machine
167.8" x 142.7"
[4262 x 3,624 mm]
186.5" x 154.7"
[4737 x 3929 mm]
212" x 154.7"
[5,384 x 3929 mm]
167.8" x 142.7"
[4262 x 3,624 mm]
186.5" x 154.7"
[4737 x 3929 mm]
212" x 154.7"
[5,384 x 3929 mm]
Height of machine
106.3" [2,700 mm]
106.3" [2,700 mm]
106.3" [2,700 mm]
106.3" [2,700 mm]
106.3" [2,700 mm]
106.3" [2,700 mm]
Weight of machine
7,055 lbs. [3200 Kg]
9,000 lbs. [4,100 Kg]
11,000 lbs. [5,000 Kg]
7,055 lbs. [3200 Kg]
9,000 lbs. [4,100 Kg]
11,000 lbs. [5,000 Kg]