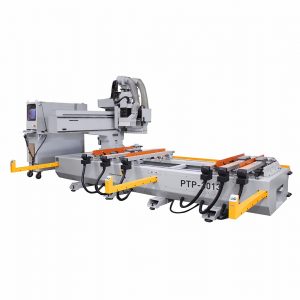 Anderson | PTP
Original price
$50,000.00
-
Original price
$50,000.00
The Anderson PTP Series defines excellence in traditional manufacturing processes by offering a wide selection of machine configurations to meet our client's needs.
By making use of many tested and proven features found in other products engineered by Anderson, such as the use of high grade components and heavy duty, cast iron base and gantry construction, the Anderson PTP Series offers clients a truly world class Point to Point manufacturing system. Together with a well-engineered machine, Anderson has completed its Point to Point machining center with an easy to use and fully integrated software package that allows for streamlined workflow and seamless parts designing with motion control being handled by a Syntec CNC Controller.
With Anderson, your traditional method of manufacturing can be revolutionized to boost your production and put you ahead of the competition.
Specifications

Basic configuration
PTP 2813
PTP 2814
PTP 3213
PTP 3214
Vacuum Area (inch)
123,2 x 56 x 6
123,2 x 62 x 6
138,8 x 56 x 10
138,8 x 62 x 10
Table size X x Y x Z (inch)
112,2 x 51,2 x 4
112,2 x 57 x 4
126 x 51,2 x 8
126 x 57 x 8
Speed X-axis
80-60-20 m/min
80-60-20 m/min
80-60-30 m/min
80-60-30 m/min
Driven system X-axis and Y-axis
Rack & Pinion
Rack & Pinion
Rack & Pinion
Rack & Pinion
Driven system Z-axis
Ball Screw
Ball Screw
Ball Screw
Ball Screw
Table type
tubeless
tubeless
tubeless
tubeless
Rails
6
6
6
6
Pods
18
18
18
18
Front stops / intermediate stops
42892
42892
42892
42892
Side stops
1R+1L
1R+1L
1R+1L
1R+1L
Panel lifting blades
4
4
4
4
Vacuum pump
90 m3/h
90 m3/h
90 m3/h
90 m3/h
Aggregate Head
11
11
23
23
Independent vertical spindles on X / Y
42860
42860
43015
43015
Independent horizontal spindles on X / Y
1+1 / 1+1
1+1 / 1+1
2+2 / 1+1
2+2 / 1+1
Drilling step
32 mm (1,3 in)
32 mm (1,3 in)
32 mm (1,3 in)
32 mm (1,3 in)
Motor
2,25 Kw
2,25 Kw
2,25 Kw
2,25 Kw
Rotation
4800 rpm
4800 rpm
4800 rpm
4800 rpm
Saw Blade 90° rotation
standard
standard
standard
standard
Motor
1,5 Kw
1,5 Kw
2,25 Kw
2,25 Kw
Blade diameter
120 mm (4,7 in)
120 mm (4,7 in)
125 mm (4,9 in)
125 mm (4,9 in)
Main head
3 axis
3 axis
3 axis
3 axis
Spindle 8Kw 1000-18000 rpm
standard
standard
Cone ISO 30
Spindle 12Kw 1000-24000 rpm Cone HSK-63F
optional
optional
standard
standard
Automatic stationary tool change
8 positions
8 positions
8 positions
8 positions
Tool diameter max.
110 mm (4,3 in)
110 mm (4,3 in)
110 mm (4,3 in)
110 mm (4,3 in)
C-Axis rotation
optional
optional
Light barriers
standard
standard
standard
standard
Safety hood for Spindle
standard
standard
standard
standard
Handwheel
standard
standard
standard
standard
NC Controller
Syntec
Syntec
Syntec
Syntec
Weight
2800 Kg
3000 Kg
3300 Kg
3500 Kg